COMPARATIVE ADJECTIVES
by Oscar Hernández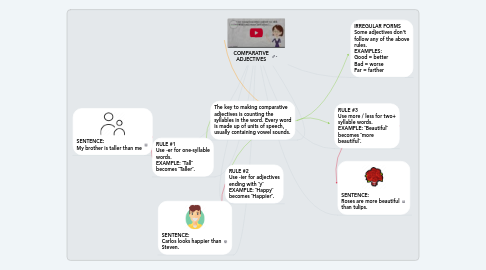 1. The key to making comparative adjectives is counting the syllables in the word. Every word is made up of units of speech, usually containing vowel sounds.
2. RULE #1 Use -er for one-syllable words. EXAMPLE: ¨Tall¨ becomes ¨Taller¨.
3. SENTENCE: My brother is taller than me
4. RULE #2 Use -ier for adjectives ending with ¨y¨ EXAMPLE: ¨Happy¨ becomes ¨Happier¨.
5. SENTENCE: Carlos looks happier than Steven.
6. RULE #3 Use more / less for two+ syllable words. EXAMPLE: ¨Beautiful¨ becomes ¨more beautiful¨.
7. SENTENCE: Roses are more beautiful than tulips.
8. IRREGULAR FORMS Some adjectives don't follow any of the above rules. EXAMPLES: Good = better Bad = worse Far = farther