Parental Involvement in Education
by
Veronica Infranca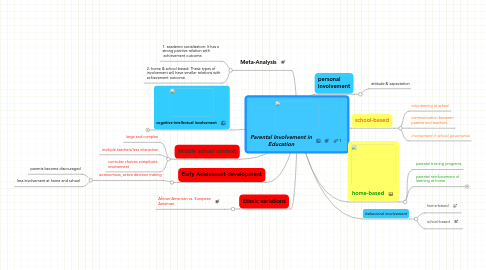 0.0
stars -
0
reviews range from
0
to
5
Parent involvement is defined as, "Parents interaction with schools and with their children to promote academic success ." (Hill and tyson p. 741)  
behavioral involvement
home-based
home based instruction strategies inlude;   engaging in educational activities at home school support for parenting (like training programs) involvement between the school and community agencies  
school-based
"behavioral involvement includes both home-based and school-based involvement strategies, such as active connections and communication between and school, volunteering at school, and assisting with homework." (Hill & Tyson pg. 741)   school based instruction strategies include;   volunteering at school communication between parents and teachers involvement in school governance  
school-based
volunteering at school
communication between parents and teachers.
involvement in school governance
home-based
parental training programs
parental reinforcement of learning at home
cognitive-intellectual involvement
Check out http://www.mindmeister.com/services/tools/geistesblitz_widgets
exposing children to stimulating activitiesand experiences
personal involvement
attitude & expectation
Middle school context
large and complex
multiple teachers/less interaction
curricular choices complicate involvement
Early Adolescent development
autonomous, active decision making
Ethnic variations
African-American vs. European American
"historical and contemporary experiences may influenc the nature of parental involvement and its influence" ( Hughes et al.,2006)
Meta-Analysis
Meta-Analysis is the technique applied to synthesis the results in the article. Meta-Analysis is used as stated by Hill and Tyson, "...to determine the extent to which parental involvement is positively associated with achievement outcomes in middle schools and which types of involvement have strongest relation."(Hill & Tyson p. 743)
1. academic socialization: It has a strong positive relation with achievement outcome.
2. home & school based: These types of involvement will have smaller relations with achievement outcome.