ONLINE PLATFORMS
by Joan Lagno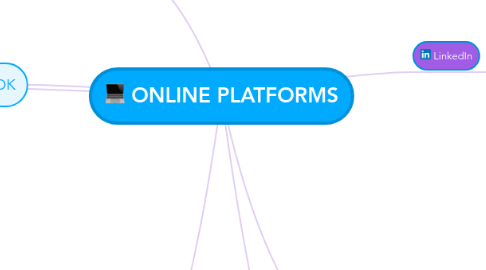 1. Facebook allows you to create not only personal accounts but also pages and groups where you can share content.The only downside of this is that you restricted to the Facebook's "one-size-fits-all" design.
2. SOCIAL MEDIA
2.1. A social platform is a web-based technology that enables the development, deployment and management of social media solutions and services. It provides the ability to create social media websites and services with complete social media network functionality.
3. FACEBOOK
4. It is the biggest social network of students, and is gaining ground among professionals too. Facebook application enables you to add new ways for users to interact with each other. On the plus side,Facebook has a lot of users.
5. Twitter
5.1. is a social networking website that's designed for finding and sharing short updates. In fact, each post—or tweet as they're called on Twitter—is limited to just 140 individual characters (letters, spaces, and punctuation marks)
6. LinkedIn
6.1. is a social networking site designed specifically for the business community. The goal of the site is to allow registered members to establish and document networks of people they know and trust professionally. It is another example of social networking site where its focus is on business and professional networking
6.2. What is LinkedIn and how can it help you? LinkedIn is the leading professional network on the web Connect with classmates, faculty, and family professionally Find new opportunities for internships and full time positions Manage what potential employers learn about you from the Internet Find key contacts at companies that interest you
7. Blogging Platforms
7.1. A blogging platform is the software or service that you use to publish your content onto the internet in the form of a blog. A blog platform is a specific form of a content management system.
7.1.1. Websites like WordPress,Tumblr, and Blogger focus on the content and design. It let you create blog or websites that you can use for different purposes. It typically looks like a newsletter where you are given options to change the design to your liking. The amount of customization in blogs is also unrivaled depending on the content management system implemented by the provider.
8. Instagram
8.1. is a popular photo-sharing app for smartphones. Compared with other social networks, Instagram is relatively simple—it's focused exclusively on sharing photos with your friends.