My Network Millie B.
by Emelia Burtch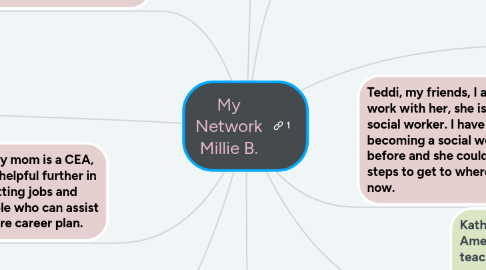 1. Jill Burtch, she helped me get hired at my current job. She is my older sister, she knows me very well and knows how passionate I am about ASL.
2. Teddi, my friends, I also used to work with her, she is now a social worker. I have thought of becoming a social worker before and she could share her steps to get to where she is now.
3. Jessica Anjos, a family friend. She was a teacher and is now a principal. She could prep me for an interview and help me plan my schedule for university to get all my courses completed.
4. Barry Horman, he is a family friend who knows many people. He travels a lot for his job, therefore meets lots of people from all over which can help me if I move and need a job.
5. Jen Burtch, my mom is a CEA, which will be helpful further in my life for getting jobs and meeting people who can assist me in my future career plan.
6. Jamie Lowther, she is my current boss, I knew her before I got hired because my mom did P.A.C with her. She's known me for a while and would be able to be a good, solid reference.
7. My mom's friend, Joanne, she owns a gym, one of my other future plans is to be involved with a gym or become a trainer, she could help me with that.
8. Kristen Eng, I volunteered and worked for her for around 3 years, she meets many people because she owns a petting zoo, many organizations come in. We have had kids who were deaf come before.
9. Alana H, she has connections with Deaf teachers, which I am very interested in. She is very involved in the Deaf community. I could hopefully get an internship or work for her.
10. Kathy Jonker, she is my American Sign Language teacher, she has many connections to the Deaf community.
11. Personal trainer, I love health and fitness, I think it would be amazing to be able to help others and educate people about healthy lifestyles and exercise.
12. Waitress, being a waitress is useful because you could be one anywhere in the world. It is a job I could do while I'm in school to get money. I currently work in a restaurant. When I am 18 I will be able to become a server.
13. Counsellor, the brain has always amazed me. I am also very passionate about helping others. I think it would be a goof fit for me.
14. Social worker, I think there are so many kids in the world that need help getting out of bad homes or situations. I also think that all kids deserve to be good homes and get out of foster care. I would be super excited to be able to help people.
15. Deaf teacher, I would want to be in an elementary school. I have always loved and been good with kids. I would enjoy watching them grow and being able to teach them.