Buckminster Fuller Challenge Project
by
JenJoy Roybal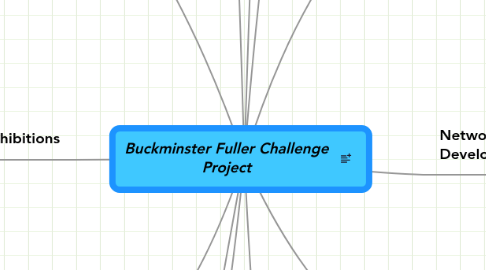 0.0
stars -
0
reviews range from
0
to
5
Buckminster Fuller Challenge Project
Working Description: The objective of the Buckminster Fuller Challenge Project is to deepen our understanding and approach to solving complex problems and catalyze and accelerate appropriate change at all scales. To achieve this, the goals of the project are: 1. Create a rigorous, transformational process where people grapple deeply with a unique set of criteria. 2. Promote and disseminate an integrated, comprehensive, systems-based approach to the design of solutions. 3. Highlight and reward exemplary strategies which embody this approach. 4. Accelerate the implementation of these solutions. 5. Champion and advance the practice. 6. inspire collaboration amongst participants and engage the public.
Challenge Prize Program
Resource Development
Program
Exhibitions
Medium or large
Consider exhibition for 5 year anniversary of the Challenge
Small
Indea Index
Working Description: Goals of the Idea Index Program (taken from previous board notes) To develop, showcase and promote a curated collection of the most comprehensive solutions to the world's critical needs To create an open source learning, presentation and dialogue platform that advances the understanding and use of essential principles, processes, strategies, models, and design concepts, for both conceiving and implementing comprehensive solutions. To facilitate synergy and discovery of practical leverage points between solutions in the collection To provide a channel which exposes these solutions to change agents, thought leaders, and funders.  
Resource Development
Idea Index 2.0
Content Production
Resource Development
Modes
Architecting the Future Forums
Concept Development
Resource Development
Program Development
Schedule
Fellowship + Internship
identify role and task
Schedule
Call for Applications
Interview
hire
Residency Program
Goals
Concept Development
Resource Development
Program Development
Schedule
Call for Applications or invitational
interview
start
Synergy Collaboratory
Version 1: The Synergy Collabortory will leverage the selection process to identify synergies between proposals;"Connect the Dots" via in-person forums; network with other elite innvation platforms; inspire financial support for exceptional solutions.
Goals
Concept Development
Program Development
Project Development
Network Strengthening and Development
Leverage existing relationships with jurors, organizations, media and entrants to strengthen participation and encourage financial support. Develop outreach and comunication strategies to build relationships. For example, we send personal updates on the Challenge to all jury members and former jury members have been invited to speak at events.   develop special outreach activites and events that simultaneously intergrate with ongoing efforts. Be mindful about cultivating this group for deeper engagement and further contribution.
Goals
Strategy
Ideas
Marketing and PR
Map a strategy that allows for the growth of the Buckminster Fuller Challenge Project and it's programs.
Resource Development
audience development
Concept Development
Media Relations Development
ecotourism and hands-on Programming
Program Development
Funding Raising +Financial Development
Goals
Strategy Development
Target Schedule