WHY IS THE WATER OF OUR RIVERS CONTAMINATED?
by Francisco Javier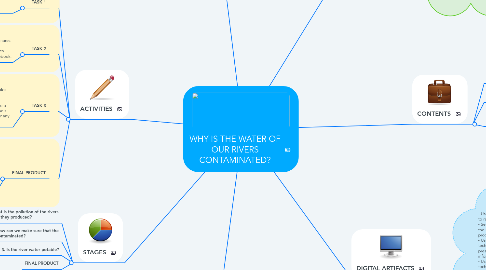 1. OBJECTIVES
1.1. - To know the water cycle. - To raise awareness among students about the prevention of pollution in rivers. - To recognize the negative effects of pollution in rivers. - To learn the route that the river makes from its source to its mouth.
2. CONTENTS
2.1. - The water cycle.
2.2. - Change of states relate to the different levels of the water cycle.
2.3. - Processes involved in the water cycle: evaporation, condensation, precipitation and collection
3. ACTIVITIES
3.1. TASK 1
3.1.1. 1. Look for written and graphic information about pollution in rivers through the internet.
3.2. TASK 2
3.2.1. 2.1. Didactic trip to the Manzanares River. 2.2. Collection of water samples 2.3. Make an observation notebook.
3.3. TASK 3
3.3.1. 3.1. Laboratory analysis of water samples and comparison and comparison with drinking water. 3.2. Collect all the information to make a slide presentation with the different tools seen in class: PowerPoint / Genial.ly or any other, using multimedia resources.
3.4. FINAL PRODUCT
3.4.1. -> Preparation of presentation of slides on pollution of rivers. -> Oral presentation about what was learned. -> Exhibition aimed at parents and students at the school.
4. STAGES
4.1. TASK 1. What is the pollution of the rivers and why are they produced?
4.2. TASK 2. How can we make sure that the water is contaminated?
4.3. TASK 3. Is the river water potable?
4.4. FINAL PRODUCT
5. DIGITAL ARTIFACTS
5.1. - Use of the appropriate telematic services to respond to the needs. - Search and select resources available on the network to incorporate them into own productions. - Use of information and communication technologies to produce texts and presentations, collect and transmit information. - Use information and communication technologies as an element to learn, learn and communicate. - Integrate numerical, textual and graphic information to construct and express knowledge units in the form of presentations.
6. ASSESSMENT
6.1. *The concepts and competences associated with the development of the different activities of the project will be evaluated through an OBSERVATION SHEET
6.2. *The quality of the final products elaborated by the students will be evaluated through a RUBRIC
7. CROSSCURRICULAR
7.1. - Stage to which the project is directed: 6th Primary - TEAM WORK (cooperative learning) - Subjects: Natural Sciences and Social Sciences. - Transversality: Understand the consequences of inappropriate use of fresh water.