Learning Design and Technology
by
wai ling Gartz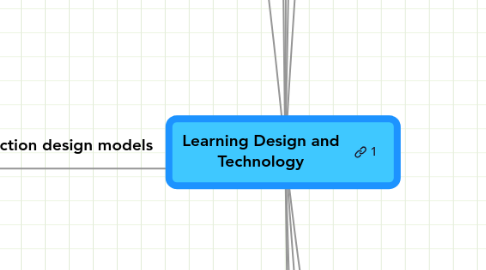 0.0
stars -
0
reviews range from
0
to
5
Design of Learning/Instructional Products
Skinner's learnig theory (1958)
Criterion-referenced testing by Glaser (1960s)
Behavior objective learning by Mager (1962)
The conditional learning by Gagne (1965)
Formative evaluation by Scriven (1967)
History of instructional design
Part 1 The part focuses on the history of instructional media. A rational for using instructional design and technology as the label for the field. Events in the history of instructional media, from the early 1900s to the present day, are described.  The birth of school museums, the visual and audiovisual instructional movements, the use of media during World War II, and the interest in instructional TV, computers, and the internet.  It also gives the summary of the effects media have had on instructional practices, and a prediction regarding the effect computers the internet, and other digital media will have on such practices.   Reiser, R. A. (2001). A history of instructional design and technology: Part I: A history of instructional media.ETR&D, 49(1), 53-64.   Part II   This part is focusing on the history of instructional design that starting with the efforts to develop training programs during WWII, and continuing on through the publication of some of the first instructional design models in the 1960s and 1970s, major events in the development of the instructional design over the last two decades, including increasing interest in cognitive psychology, microcomputers, performance technology, and constructivism.   Reiser, R. A. (2001). A history of instructional design and technology: Part II: A history of instructional design. ETR&D, 49(2), 57-67.  
Teacher interaction
The result of the study indicate that social context must become the object of the design as well as the source of it.  The designers must create those aspects of social contexts that have important consequences of learning.  They must also consider what designers and other participants in the design activity bring to the social situation and how their knowledge, motives, beliefs and actions constrain the interactional processes that guide their activities. Moallem, M. (1998). An expert teacher's thinking and teaching and instructional design models and principles: an ethnographic study. ETR&D, 46(2), 37-64.  
Macrodesign models
The teacher's knowledge and beliefs
Teacher's early experiences as a student and later as a teacher affect the way she thinks of herself and her students in the classroom.  In addition, the limitations of her knowledge also influences her actions and relationship with students.
The teacher's planing and interactive teaching
Teacher engaged in two forms of reflection-in-action: reflection-in-action and reflection
The teacher's reflective thinking
Teacher views tests as a way of communicating to students how they are progressing in terms of classroom  goals and expectations.
Social and cultural construct of thinking and teaching
The teacher's decision before, during and after classroom instruction are based on her interpretations of the social context of the classroom and the school
Cognitive construct of instructional design
Context for instructional /learning design
The study show that teachers tend to become more constructivist as a product of technology integration experience.  In addition, the study also show the understanding that when private theories about learning dominate the participants' (teachers) design, their products tend to incorporate student-centered technology-based learning.  When the other three areas (technology, students, and teacher) of theory dominated design, it appeared to lead a direct instruction model. This indicated the necessary for institutes' reforms that need to be focused on a shift towards student-centered practice, the decisions of participating teachers should be dominated by their private theories about learning instead of students, technology, or teacher. Churchill, D. (2006). Teachers' private theories and their design of technology-based learning. British Journal of Educational Technology, 37(4), 559-576.  
Instituational influence
Individual beliefs
Design
Selection criteria for topics to suit for technology-based learning, planning, and design
Educational changes
Change in society and impactions in education that impacts teachers and students
Designing for concept learning
Activity theory as a framework for designing constructivist learning enviroments
This paper suggests that active theory provides an appropriate framework for analyzing needs, tasks, and outcomes for designing constructivist learning environments.  It focuses on the interaction of human activity and consciousness within its relevant environmental context. As a result, it views that applying activity theory to analyzing real-world situations for the purpose of designing CLEs involves examining and elaborating serval factors: the activity structures engaged by work; the tools, rules, and symbol systems.   Jonassen, H.D. & Rohrer-Murphy, L. (1999). Activity theory as a framework for designing constructivist learning environment.  ERT&D, 47(1), pp. 61-99.
Designing for collaborative learning
For pedagogical progress to be made in electronic learning environments, educators must begin to realize that the lockstep factory model of education is out of sync with prevailing views of learning.  In addition, a sociocultural view on collaborative tools explicitly points to the social origin of higher mental functions, the distributed nature of learning and problem solving, and the importance of technology tools in mediating individual and cultural development.   Bonk, C. J., & Cunningham, D.J. (1998).  Searching for learner-centered, constructivist, and sociocultural components of collaborative  educational learning tools.  In C.J. Bonk, & K.S. Kind (Eds.), Electronic collaborators: Learner-centered  technologies for literacy, apprenticeship, and discourse, (pp. 25-50). Mahwah, NL: Erlbaum.
Designing for concept learning
This article ponits out the concepts can ouly be fully understood as processes of conceptual change, the reorganization of conceptual frameworks.  Although very little research has focused on assessing conceptual change, the theories conceptual change recommend assessing patterns of concepts and concepts-in-use.  Additionally, it suggests that treating concept learning only as the ability to classify new instances and reorganized by conceptual change. In the processes of conceptual change, the meanings of concepts and their elationships with other concepts change in substantive, functional ways.  In order to capture the complexity of conceptual frameworks, concept learning must be assessed in patterns and in use.  In order to engage and support learners in meaningful concept learning, students should learn how to use a variety of tools to build models of learnings and to engage in solving complex and ill-structured problems. Jonassen, H. D. (2006).  On the role of concepts in learning and instructional design.  ETR&D, 54(2), 177-196.
Designing instructional /learning technology product II
Designing for constructivist learning
1. Understand is in our interactions with the environemnt. 2. Cognitive conflict or puzzlement is the stimulus for learning and determines the organization and nature of what is learned. 3. Knowledge evolves through social negotiation and through the evaluation of the viability of individual understandings. Savery, J. R., & Duffy, T.M. (1995).  Problem based learning: an instructional model and its constructivist framework. Educational Technology, 35(5), 31-38.
Problem-based learning design
The key to learning to solve problems is the problem space construction because rich problem representations most clearly distinguish experts for novices and scaffold working memory.  So, developing elaborate, multiple representations of problems along with learning to regulate different kinds of problem performance needs to be explicitly taught.   Jonassen, D. (2000). Towards design theory of problem solving. ETR&D. 48(4), 63-85
Constructivist learning environments
The goal of this theory is to foster problem solving and conceptual development for ill-structured domains Jonassen, D. (1999). Designing constructivist learning environments. In C. M. Reigeluth (Ed.), Instructional Design Theories and Models: A New Paradigm of Instuctional Theory, volume 2 (pp. 215-239). Hillsdale, NJ: Lawrence Erlbaum Associates.  
Development of a product
Interface design
http://designingwebinterfaces.com/6-tips-for-a-great-flex-ux-part-5
Student centered learning design
Resource-based learning evironments
In order to successfully implement resource-based learning environments, there are issues related to people, place, things, and ideas need to be addressed. Resource-based learning offer great promise for teachers when there are ways to enhance and extend existing approaches to meet the demands of the digital era are provided.  The physical infrastructure needed to implement these environments is already well developed and continues to expand and be refined. The tasks for educator is to find ways to consolidate and integrate cross-disciplinary practices into more comprehensive and grounded methods and models for the design and implementation of resource-based learning environments. Hill, J. R., & Hannafin, M.J. (2001).  Teaching and learning in digital environments: the resurgence of resource-based learning.  ETR&D, 49(3), 37-52.
Classification of learning objects
This paper attempts to address the ill-defined concept problem by providing classification that potentially brings together various perspectives of what a learning object may be. Six unique types of learning objects are proposed and discussed: presentation, practice, simulation, conceptual models, information and contextual representation objects. Based on common characteristics of these six types, a learning object is defined as a representation designed to afford uses in different educational context.   Churchill, D. (2006).  Towards a useful classification of learning objects. Educational Communications and Technology. Education Tech Research dev (2007) 55: 479-497
E-learning design
This book is mainly concerned with the latter, the use of online learning as the principal form of course delivery. Naturally much of the researchers discuss has implications for any form of online and Web- supported setting.  Furthermore, designing learning environments that support knowledge construction requires deliberate forms of planning. From this book, it suggests that the learning environment needs to provide the learners with a raft of motivating and engaging tasks that cause the learner to make choices and decisions in the learning process, to reflect on what is being learned, to articulate and to share the new ideas and knowledge that is being acquired with others.   Oliver, R., & Herrington, J. (2001).  Teaching and learning on-line: a beginner's guide to e-learning and e-teaching in higher education.  Perth, Australia: Edith Cowan University.
Instruction design models
Learning theories and ID
This paper is a study of how the behaviorism, cognitivism, and constructivism learning theories support and impact the instructional designs.  The conclusions of this study are: 1.) there is place for each theory within the practice of instructional design, depending upon the situation and environment.  2.) Whichever situation the instructional designer finds themselves in, they will require a thorough understanding of learning theories to enable them to provide the appropriate learning environment. 3.) Though instructional design may have a behaviorist tradition, new insights to the learning process continue to replace, change and alter the process. Advancements in technology make branched constructivist approaches to learning possible.   Mergel, B (1998).  Instructional design & learning theories. http://www.usask.ca/education/coursework/802papers/mergel/brenda.html
Gagne's 9 events of instruction
Instruction consists of a set of events external to the learner designed to support the internal process of learning. The events of instruction are designed to make it possible for learners to proceed from "where they are " to the achievement of the capability identified as the target objective.   Chapter 10 "The events of instruction" from Gagne, R., Briggs, L. J., & Wager, W. W. (1992).  Principles of instructional design.  Orlando, FL: Harcourt Brace College Publishers.
Merrill's ID1 and ID2
CISCO reusable learning object models analysis stage of instructional/learning product development
The reusable information object (RIO) strategy is built upon the RIO. An RIO is granular, reusable chunk of information that is media independent. An RIO can be developed once, and delivered in multiple delivery mediums. Each RIO can stand alone as a collection of content items, practice items and assessment items that are combined based on a single learning objective.  Individual RIOs are then combined to form a larger structure called a Reusable Learning Object (RLO). Cisco. (1999).  Cisco Systems reusable information object strategy: definition, creation overview, and guidelines.  Cisco Systems, Inc. http://www.cisco.com/warp/public/779/ibs/solutions/.../el_cisco_rio.pdf
Design instructional/learning teachnology product 1
Multimedia learning theory
This article assumpts that the students can learn more deeply from well-designed multimedia messages consisting of words and pictures than from more traditional modes of communication involving words alone. It explores a program of of research aimed at determining effective methods and designing multimedia learning environments for learners. The premise in this research is that the intelligent design of multimedia instructioal messages depends on an understanding of how the human mind works.  the role of instructional technology in this learner-centered scenario is to serve as a tool that increases the power of human cognition.    Mayer, E. R. (2003). The promise of multimedia learning: using the same instructional design methods across different media. Learning & Instruction, 13, 125-139.
4C instructional design model
The article gives an overview of the four-component instructional design system (4C/ID-modle).  The 4C/ID model consists of four interrelated  components are essential in blueprints for complex learning: 1.) learning tasks, 2.) supportive information, 3.) just-in-time information, and 4.) part-task practice. The 4C ID modle has beend tested for developing training programs that lead to higher transfer persformance thatn conventional insttruction, and that the effect increases as transfer tasks differ more from the original training tasks.  As result, the $C/ID strategies yielded higher transfer performance than control strategies, and this superiority became more evident on far transfer problems for which learners had to design and construct new computer programs that required solution not encountered before.  However, in terms of other domains including statistical analyzing, computer numerically controlled programming, and fault management in process industry training strategies, they followed and supported the 4C/ID  principles.   Van Merrienboer, J. J., Clark, R. E. & de Crook, M. B. (2002).  Blueprints for Complex Learning:  The 4C/ID-Model. ETR&D, 50(2), 39-64.
Learning by doing approach to instructional design
The goals of learning by doing theory is to foster skill development and the learning of factuual information in the context o fhow it will be used.  It provides guidelines for all major aspects of project-based learning.   Schank, C. R., Berman, R. T. & Macpherson, A. K. (1990).  Learning by doing. In C. M. Reigeluth (Ed.), Instructional-Design Theories and Models: A New Paradigm of Instructional Theory, volume 2 (pp.397-424). Hillsdale, NJ: Lawrence Erlbaum Assoc.
Web 2.0-based Learning Technologies
The adoption and integration of web 2.0 and mobile technologies can have great impact in teaching and learning process for educators and students.  The stockholders need to think outside of the traditional frameworks in order to adopt these innovation effectively in education.   Churchill, D. (2007). Web 2.0 and possibilities for educational application.  Educational Technology, 47(2), 24-29.
Web 2.0
Social networking and instructional/learning design
Individuals can create, manage, and publish information and resources that want others to access.  Use of internet-mediated social learning spaces (which build on ideas and experiences from social spaces such as MySpace), and new forms of collaborative learning.
Media repositories
Cloud Computing
Collective design
Designing learning technology for mobile learning
The article expores current applications for handheld devices and questions which of these make full use of the unique attributes of handheld devices in order to facilitate learning in a pedagogiclaly sensible manner.  As a result, the researchers believe that there are reasons that handheld devices will have impacts on learning as long as the technology is being used within the educational targeted functionality framework.   Patten, B., Sanchez, I. A., & Tangney, B. (2006). Designing collabroative, constructionist and contextual applications for handheld devices.  Computers & Education, 46(3), 294-308.
Functionality framework pedagogical underpinnings