GRAMMAR
by Lucia cabrera asencio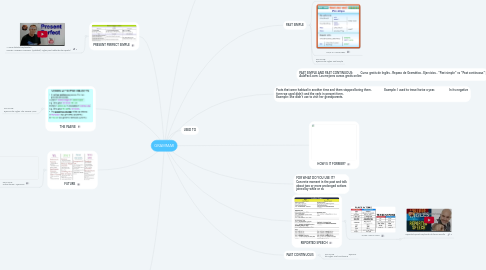 1. HOW IS IT FORMER?
2. Facts that were habtual in another time and them stopped being them. Example: I used to travel twice a year. In its negative form we used didn't and the verb in present form. Example: She didn't use to visit her grandparents.
3. FOR WHAT DO YOU USE IT? Concrete moment in the past and talk about two or more prolonged actions joined by while or as
4. PAST SIMPLE
4.1. FOR WHAT DO YOU USE IT? Actions in a moment of the past
4.2. HOW IS IT FORMED?
4.3. PRACTICE: Ejercicio de inglés: Past Simple
5. PAST CONTINUOUS
5.1. PRACTICE Ejercicio de inglés: Past Continuous
6. PAST SIMPLE AND PAST CONTINUOUS: Curso gratis de Inglés - Repaso de Gramática - Ejercicios - "Past simple" vs "Past continuous" | AulaFacil.com: Los mejores cursos gratis online
7. PRESENT:
8. USED TO
9. PRESENT PERFECT SIMPLE
9.1. A more detailed explanation INGLÉS. PRESENT PERFECT (Updated). Inglés para hablantes de español
10. THE PASIVE
10.1. PRACTICE: Ejercicio de inglés: The Passive Voice
11. FUTURE
11.1. PRACTICE: Future tenses - ejercicios
12. FIRST AND SECOND CONDITIONAL:
12.1. PRACTICE: First and second conditionals - Test English
13. REPORTED SPEECH
13.1. TIMES AND PLACES
13.1.1. Reported Speech explicado de forma sencilla