iGCSE Geography
by
Will Williams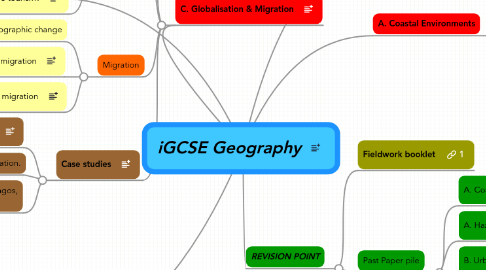 5.0
stars -
2
reviews range from
0
to
5
iGCSE Geography
This map is supposed to support the iGCSE EDEXCEL textbook.
B. Urban Environments
Global urbanisation
A growing percentage of the world's population lives in urban areas.
Urban segregation
The urban environment is characterised by the segregation of different land uses and of people of different economic status and ethnic background.
Urban change
Changes occur as urban environments age and the needs of people change.
Fieldwork
A. Hazardous Environments
Introduction
Some places are more hazardous than others.
Impacts
Hazards have an impact on people and the environment.
Managing Hazards
Different levels of economic development affect how people cope with hazards.
A. Coastal Environments
Physical processes
Physical processes give rise to characteristic coastal landforms.
Ecosystems & Biodiversity
Distinctive ecosystems develop along particular stretches of coastline.
Managing coasts
Distinctive ecosystems develop along particular stretches of coastline.
B. Economic Activity & Energy
Sectors of industry
Economic activity sustains people and involves output from a number of different economic sectors.
Location and growth
The location and growth of particular types of economic activity are influenced by a range of factors.
Rising demand for energy
Increased economic production creates a rising demand for energy and/or energy efficiency.
Case studies
Fieldwork
C. Globalisation & Migration
Globalisation is making the nations of the world increasingly interdependent. Major movements of people are both a cause and a consequence of this interdependence.
Rise of globalisation
Tourism
Migration
Case studies
Migration — a component of population change; international migration; net migration.
REVISION POINT
Past Paper pile
Case study pile