INTELLIGENCE
by
Misha Begay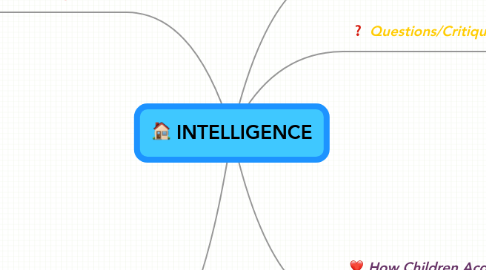 0.0
stars -
0
reviews range from
0
to
5
INTELLIGENCE
Definition
Intelligence: the ability to benefit from experience and thereby modify future behaviors to accomplish new tasks successfully.
Components
Steinberg- intelligent behavior involves adaptation, one must modify their responses to deal successfully with specific environmental conditions or modify the environment to better fit their own needs.
Steinberg- intelligent behavior sometimes involves the individual to use prior experiences which plays a crucial role.
Steinberg- proposes that numerous cognitive processes are involved in intelligent behavior, interpreting new situation in ways that promote successful adaptation, sustaining concentration on a task, deciphering information and identifying effective problem solving strategies. etc...
Group Differences in Intelligence
Questions/Critiques
Why are there so many theories?
Are they now more culturally sensitive?
Are they accurate for a child of possible Special Needs?
Are they accurate for a normal child?
Which theory is most relevant in testing a child?
How Children Acquire Intelligence
Nature and Nurture play a role in the development of intelligence. Also, environmental differences play a role in intellectual development.
Childrens genes require environmental support to work efficiently.
In an impoverished environment a child with a lack of adequate nutrition and little stimulation- heredity may have little to say about the extent to which children develop intellectually.
In an ideal environment a child with nutrition, proper parenting practices, and educational oppurtunities are optimal and age appropriate. Heredity is likely to have a significant influence on children's IQ scores.
As children grow they choose their environment and their experiences. A child with quantitative reasoning may choose something that nurtures their inherited talents or a child of average quantitative abilities may choose something less challenging.
Theorists
Spearman's G: General factor in intelligence that influences performance in a wide variety of tasks and content.
Cattell's Fluid and Crystallized Intelligence: ability to acquire knowledge and adapt to new situations. Knowledge and skills accumulated from proir experiences and school.
Gardner's 8 Multiple Intelligences: Linguistic, Logical-Mathematical, Spatial, Musical, Bodily Kinesthetic, Interpersonal, Intrapersonal, and Naturalist.
Steinberg's Triarchic Theory: 3 Factors, The Environmental Context, Prior Experiences, and The Cognitive Process.