Shanghai - a case study of a contemporary megacity experiencing rapid growth
by Shukri Abdiker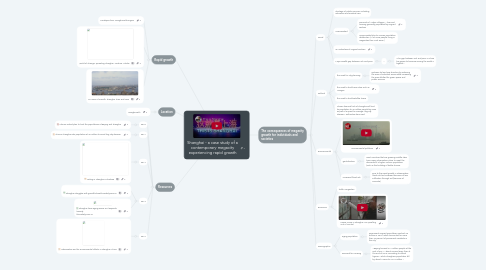 1. The consequences of megacity growth for individuals and societies
1.1. Social
1.1.1. shortage of public services, including education and medical care
1.1.2. overcrowded
1.1.2.1. removals of "urban villages" – low-cost housing generally populated by migrant workers
1.1.2.2. Overcrowded due to uneven population distribution (A lot more people living in megacities than rural areas.)
1.1.3. an underclass of migrant workers
1.1.4. Major wealth gap between rich and poor
1.1.4.1. "
1.1.4.1.1. "The gap between rich and poor in China has grown to become among the world's highest."
1.2. Political
1.2.1. the need for city planning
1.2.1.1. optimize its land use structure by reducing the area of industrial zones while increasing the area allotted for green space and public services
1.2.2. the need to build new cities such as Xiongan
1.2.3. the need to build satellite towns
1.2.4. China's financial hub of Shanghai will limit its population to 25 million people by 2035 as part of a quest to manage "big city disease", authorities have said.
1.3. Environmental
1.3.1. environmental pollution
1.3.2. gentrification
1.3.2.1. most countries that are growing middle class have many urbanisation plans to meet the demands of a higher income population (such as the building of better homes.
1.3.3. increased flood risk
1.3.3.1. Due to the rapid growth in urbanisation, flood risk has increased because of less infiltration through soil (because of concrete)
1.4. Economic
1.4.1. traffic congestion
1.4.2. House Prices in Shanghai Are Spiralling Out of Control
1.5. Demographic
1.5.1. aging population
1.5.1.1. permanent migrant population reached 9.6 million in 2012, which accounted for more than 40 percent of permanent residents in the city.
1.5.2. Demand for Housing
1.5.2.1. "Beijing housed 21.7 million people at the end of 2017 – about 20,000 fewer than at the end of 2016, according to official figures – while Shanghai's population fell by about 10,000 to 24.18 million."
2. Rapid growth
2.1. Timelapse from Google Earth Engine
2.2. World of Change: Sprawling Shanghai : Feature Articles
2.3. 26 Years of Growth: Shanghai Then and Now
3. Location
3.1. Google Earth
4. Resources
4.1. 2018
4.1.1. China's radical plan to limit the populations of Beijing and Shanghai
4.2. 2017
4.2.1. China's Shanghai sets population at 25 million to avoid 'big city disease'
4.3. 2014
4.3.1. Toiling in Shanghai's Shadows
4.4. 2013
4.4.1. Shanghai struggles with growth|China|chinadaily.com.cn
4.4.2. Shanghai faces aging issues as it expands |Society |chinadaily.com.cn
4.5. 2012
4.5.1. Urbanization and its environmental effects in Shanghai, China