CT: Personal Learning Networks
by
Patricia Anderson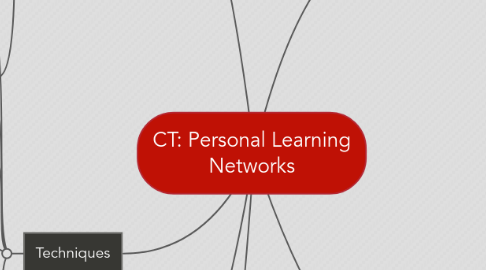 0.0
stars - reviews range from
0
to
5
CT: Personal Learning Networks
Definitions
Personal learning
reading
learning
web sites
tutorials
Lynda.com
books
Great Courses
online video
self-learning
PL Networks
"that set of people you'd call when you have a question"
oversized"mentor net"
instead of phoning, now I set up a shared connection and he fixes my computer
screen sharing
PLN
Wikipedia:, Personal learning environment, virtual learning environment, social medium, EQUAL your own PLN
Fischbowl, "what's new is the reach"
Motivators
one-person shop
only person with your job in your building or area
opportunities
NASA Astronauts tweet
Q&A session from the space station
citizen science
lack of professional colleagues in your immediate environment
repackaging
connecting with the real expert
or notables
problem solving
"because I don't want to sink"
reputation, protects you in your position
"more people that know your good work"
online resume
"some people learn best via conversation"
Ideas
Sharing
facilitating communication
mobile web
QR codes
SCVNGR
ARIS
Techniques
community building activities
virtual picnic
"do you know who this is?"
virtual townhalls
RSS steams
hashtags
#thatdarnlist
#hcsm
combine with real life
meetups
French conversation group
a2b3
How To
Creating an Online Personal Learning Network
PLN: Your Personal Learning Network Made Easy
Warlick's CoLearners: The Art & Technique of Personal Learning Networks
8 Ways To Build Your Personal Learning Network With Twitter, Google Plus, And More
PLENK (Personal Learning Environments Networks & Knnowledge)
Resources
Formal
Professional associations
email listservs
blogs
Informal
conversations
being where other people are
niche networks
Ning, Educator's PLN
Spruz
Groups
Grouply
SocialGO
Wetpaint
More, Robin Good's Ning Alternatives Guide, 9 Free Ning Alternatives And Some Open Source Solutions
social media
Facebook
Delicious
Twitter
Identi.ca
Plurk
Google+
Youtube
virtual worlds, Second Life, World of Warcraft, OpenQwaq / Teleplace, OpenSim, more
Challenges
Questions
How do you know you have a quality PLN?
Balance
time management
priority setting
efficiency
choices
Issues
trolls, griefers, spammers
expert or just a loudmouth?