Basic Computer Hardware
by
Gina Thayer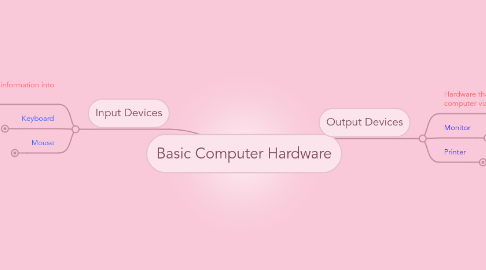 0.0
stars -
0
reviews range from
0
to
5
Basic Computer Hardware
Output Devices
Hardware that moves information out of the computer via the monitor or a printer.
Monitor
Electronic display of computer output; also known as a soft copy.
Benefit: Immediate display of information processed.
Challenge: Soft copy of information. Information is lost (if not saved to hard-drive) when power to the computer is lost.
Application to Learning: Necessary for seeing immediate output from computer applications.
Printer
Electronic output of computer data; creates a hardcopy.
Benefit: Hard copy of data to keep on file.
Challenge: Compatability of printer with computer software.
Application to Learning: Ability to print mind maps, terminology with definitions or other study materials to access when not at a computer.
Input Devices
Any external means of inputing information into the computer
Keyboard
Input device consisting of keys of letters, numbers, and symbols. Used to type commands and input data.
Benefits: Allow data input at a rapid rate.
Challenges: Learning curve associated with learning to type.
Application to Learning: Input of data in an excel spread sheet in a math class.
Mouse
External pointing device used to click on program icons and make selections within software.
Benefits: Ability to navigate through programs with the ease of "point and clicking"
Challenges: Orientation of buttons on mouse to be adapted to a right or left hand dominant student.
Application to Learning: Navigation through software and the internet.