"The production of knowledge is always a collaborative task and never solely a product of the individual." Discuss this statement with reference to two areas of knowledge.
by Yuma Kuijntjes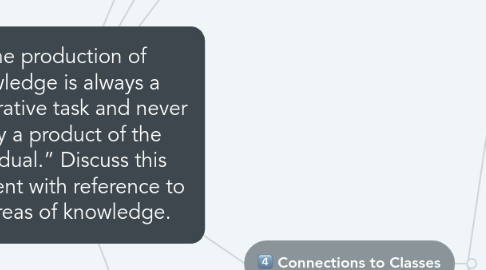 1. Keywords
1.1. Knowledge
1.1.1. "facts, information, and skills acquired through experience or education; the theoretical or practical understanding of a subject."
1.2. Collaborative
1.2.1. "the action of working with someone to produce something." In this case it would be the production of knowledge.
2. Key Phrases
2.1. Production of Knowledge
2.1.1. CREATING a new theory/idea based from any WOK and AOKs
3. Rewrite
3.1. "The creation of new theories and/or ideas is always a task that is carried out by more than one person. It is never a product of the individual"
4. Rewrite
5. Connections to Classes
5.1. Subject 1
5.1.1. The Arts
5.1.2. How can artists produce knowledge?
5.1.2.1. Connection
5.1.2.1.1. WOK: Sense perception, Imagination, Memory
5.1.2.1.2. Framework Area: Methodology
5.2. Subject 2
5.2.1. Natural Sciences
5.2.2. Do scientists work individually to produce their work?
5.2.2.1. Connection
5.2.2.1.1. WOK: Sense perception, imagination
5.2.2.1.2. Framework Area: Methodology
5.3. EXTRA AOK IF NEEDED
5.3.1. Ethics
5.3.2. RLS/PK Connections
5.3.2.1. Connection
5.3.2.1.1. WOK
5.3.2.1.2. Framework Area