Physical Disability
by
Captain Walker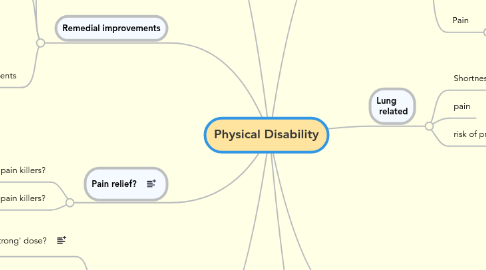 0.0
stars - reviews range from
0
to
5
Physical Disability
Medics
Generally focus on symptoms and signs
They may notice loss of function
Not usually in the role of evaluating impact of loss of function
Make a fundamental assumption that symptom relief leads to improvement of function
Tend to focus on function of
Limbs
Organs
Joints
Structures
Pain
They aim for pain relief
However pain relief does not guarantee improved function
Lung related
Shortness of breath
pain
risk of pneumothorax
Limb functions
Has to be referenced against accepted normal values for age, gender, race etc. 
Limitations
Pain
Stiffness
Grinding
Lack of nerve function
Lack of brain function, Parkinson's dz, Dementia
Movement
degree of bending
degree of movement
Weightbearing
Endurance
Amount
Frequency
Heart related
Physical pain or discomfort
Palpitations
Thrombotic
Shortness of breath
Sexual
Decreased libido
Erectile problems
Vaginismus
Nervous problems
Psychiatric
Remedial improvements
Physiotherapy
Pain relief
Pain drives people to do something about it
But some people avoid pain relief
Alternative treatments
Acupuncture
Aromatherapy
Hopi ear candles
Osteopathy & Chiropractic, Talk to Simon Singh
Shiatsu
Pain relief?
How is potency of pain killer measured?  How does a potent pain killer work for an individual? How do you evaluate it?  All you have is the patients word?
Strong pain killers?
Weak pain killers?
Medication
What's a 'strong' dose?
Be careful with the numbers they may mean little.  Big numbers can mean poor compliance!!
What factors affect dose?
Age
Weight
Sex
Smoking or not?
Other medications
Lifestyle
Genetics
Diet
Duration of treatment