Traci Stanley Operating Systems
by Traci Stanley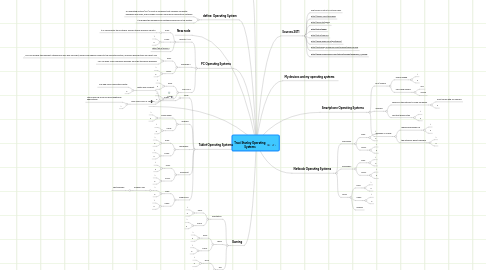 1. 2
2. Sources 2011
2.1. use tinyurl or bit.ly to list your links
2.2. http://tinyurl.com/3bmo86d
2.3. http://amzn.to/qjg75j
2.4. http://bit.ly/Z9qkl
2.5. http://bit.ly/oK3SoX
2.6. http://www.apple.com/ipad/specs/
2.7. http://dictionary.reference.com/browse/open+source
2.8. http://www.maximumpc.com/article/reviews/windows_7_review
3. Smartphone Operating Systems
3.1. iOS/ iPhone
3.1.1. overall speed
3.1.1.1. 1
3.1.1.2. 2
3.1.2. can crash servers
3.1.2.1. ISO
3.1.2.2. Icloud
3.2. Android
3.2.1. gives you the options to make life easier
3.2.1.1. most come with HD camera
3.2.1.2. 2
3.2.2. wifi that drops often
3.2.2.1. 1
3.2.2.2. 2
3.3. Windows 7 Mobile
3.3.1. replaced windows 6.5
3.3.1.1. 1
3.3.1.2. 2
3.3.2. the interface hasnt changed
3.3.2.1. 1
3.3.2.2. 2
4. define: Operating System
4.1. An operating system (OS) is a set of programs that manages computer hardware resources, and provides common services for application software.
4.2. It manages the hardware and software resources of the system.
5. PC Operating Systems
5.1. Ubuntu 11.04
5.1.1. Pros:
5.1.1.1. It is named after the Southern African ethical principle Ubuntu
5.1.2. Cons:
5.1.2.1. 1
5.1.2.2. 2
5.1.3. http://bit.ly/flNMKJ
5.2. Windows 7
5.2.1. Pros:
5.2.1.1. , you can arrange the different categories in any way you want, quickly add special folders to the Favorites section, and even hide sections you don't use.
5.2.1.2. You can even close individual windows from the thumbnail previews.
5.2.2. Cons:
5.2.2.1. 1
5.2.2.2. 2
5.3. Mac OS X
5.3.1. Pros:
5.3.1.1. 1
5.3.1.2. 2
5.3.2. Cons:
5.3.2.1. 1
5.3.2.2. 2
6. define: Open Source
6.1. Computers . pertaining to or denoting software whose source code is available free of charge to the public to use, copy, modify, sublicense, or distribute
6.1.1. New node
7. Tablet Operating Systems
7.1. iOS5
7.1.1. iPad2
7.1.1.1. faster and compact
7.1.1.1.1. Can add more information faster
7.1.1.1.2. 2
7.1.1.2. Only uses AT&T or Verizon
7.1.1.2.1. Touch and pay more for each additional applicatinon
7.1.1.2.2. 1
7.2. Android
7.2.1. Movie down
7.2.1.1. 1
7.2.1.2. 2
7.2.2. Cons:
7.2.2.1. 1
7.2.2.2. 2
7.3. Windows7
7.3.1. Pros:
7.3.1.1. 1
7.3.1.2. 2
7.3.2. Cons:
7.3.2.1. 1
7.3.2.2. 2
7.4. Dual Boot
7.4.1. Pros:
7.4.1.1. 1
7.4.1.2. 2
7.4.2. Cons:
7.4.2.1. 1
7.4.2.2. 2
7.5. Kindle Fire
7.5.1. Pros:
7.5.1.1. 1
7.5.1.1.1. Amazon Silk
7.5.1.2. 2
7.5.2. Cons:
7.5.2.1. 1
7.5.2.2. 2
8. Netbook Operating Systems
8.1. Chromium
8.1.1. Pros:
8.1.1.1. 1
8.1.1.2. 2
8.1.2. Cons:
8.1.2.1. 1
8.1.2.2. 2
8.2. Windows7
8.2.1. Pros:
8.2.1.1. 1
8.2.1.2. 2
8.2.2. Cons:
8.2.2.1. 1
8.2.2.2. 2
8.3. Linux
8.3.1. Pros:
8.3.1.1. 1
8.3.1.2. 2
8.3.2. Cons:
8.3.2.1. 1
8.3.2.2. 2
8.3.3. MeeGo
9. My devices and my operating systems
10. Gaming
10.1. Playstation
10.1.1. Pros:
10.1.1.1. 1
10.1.1.2. 2
10.1.2. Cons:
10.1.2.1. 1
10.1.2.2. 2
10.2. XBox
10.2.1. Pros:
10.2.1.1. 1
10.2.1.2. 2
10.2.2. Cons:
10.2.2.1. 1
10.2.2.2. 2
10.3. Wii
10.3.1. Pros:
10.3.1.1. 1
10.3.1.2. 2
10.3.2. Cons:
10.3.2.1. 1
10.3.2.2. 2
11. New node