Robert Trappl
by
Dan Taylor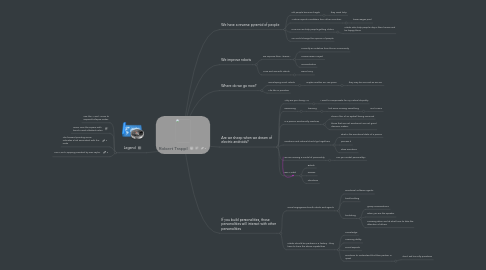 5.0
stars -
1
reviews range from
0
to
5
Robert Trappl is head of the Austrian Research Institute for Artificial Intelligence and Professor Emeritus of Medical Cybernetics and Artifcial Intelligence at the Center for Brain Research at the Medical University of Vienna. Robert hates to write project proposals(but does), hates even more if these proposals are rejected (they sometimes are), loves to explore new areas and loves to lecture (and does both), loves fascinating people (whom he expects to meet at TEDx 2011), and loves to love.
We have a reverse pyramid of people
old people become fragile
Austria imports caretakers from other countries
How can we help people getting older?
Siri could change the opinion of people
We improve robots
we improve their "brains"
Love and sex with robots
Where do we go now?
Developing smart robots
Life like in paradise
Legend
Use the + and - icons to expand/collapse nodes
Hover over the square with lines to read attached notes
Well done!  
Are we sheep when we dream of electric androids?
Why are you doing AI?
Reasoning
is a person emotionally reactive?
emotions and rational should go together?
we are missing a model of personality
BDI Model
If you build personalities, those personalities will interact with other personalities
social engagements with robots and agents
robots should be partners in a factory - they have to have the above capabilities