Smartphone Operating Systems
by Christina Cueto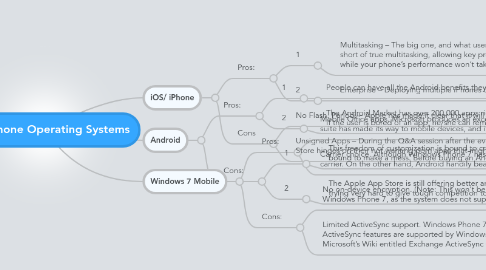 1. iOS/ iPhone
1.1. Pros:
1.1.1. 1
1.1.1.1. Multitasking – The big one, and what users have been clamouring for since the beginning, Apple has devised a way to allow programs to run as background processes in a way that doesn't harm the CPU and battery. Really, their solution comes just short of true multitasking, allowing key processes for certain apps to run in the background while resources can be directed to apps in the foreground. So now you can finally run Pandora while checking your mail, or take calls from Skype while browsing while your phone's performance won't take a hit. Other implementations include backgrounded location for GPS and social media programs, Push notifications, and local notifications.
1.1.2. 2
1.1.2.1. Enterprise – Deploying multiple iPhones over a business network is made easier and with security as a focus. Also, company-developed apps can be downloaded right from the jump, bypassing the App Store
1.2. Cons
1.2.1. No Flash. Period. – Apple has made it clear that it will not budge on the HTML5 vs. Flash debate. How this will turn out is anyone's guess, but what can be considered a con now might be a pro in coming years as sites slowlly embrace the new standard.
1.2.2. Unsigned Apps – During the Q&A session after the event, one audience member asked if users can expect a future app store that didn't hinge on Apple's approval, citing Android and WebOS's offerings. Jobs' response was a flat and unsurprising no. Apple's control over the App Store hinges on their not wanting porn apps that might be downloaded by children, although it should be noted Mobile Safari already accesses plenty of porn sites optimized for the iPhone. Not a blemish on the OS itself, but yet more fuel to the App Store management fire.
2. Android
2.1. Pros:
2.1.1. 1
2.1.1.1. People can have all the Android benefits they want to use. It's one of the most user friendly mobile operating systems in the world today and customization is very easy.
2.1.2. 2
2.1.2.1. The Android Market has over 200,000 apps right now and many more are added on a daily basis. It's very simple to install and download apps from the Android Market. If the user is bored of an app, he/she can remove it from the phone very easily, the procedures are not long and time consuming like other phones.
2.2. Cons:
2.2.1. 1
2.2.1.1. This freedom of customization is bound to create some problems in the near future. When a user can customize the phone to his/her heart's content, he/she is bound to make a mess. Before buying an Android smartphone, it is good to have technical knowledge about the functioning of the system.
2.2.2. 2
2.2.2.1. The Apple App Store is still offering better and a large number of apps than the present Android Market. This disadvantage can prove very costly for Android who's trying very hard to give tough competition to Apple. Plus many useful apps in Android Market are not free which again means spending money buying them.
3. Windows 7 Mobile
3.1. Pros:
3.1.1. Mobile Office apps. Microsoft produces an excellent productivity suite in the form of Microsoft Office. With Windows Phone 7, a mini version of that suite has made its way to mobile devices, and it looks really good. The operating system also provides access to SharePoint-based documents
3.1.2. Carrier choice. Although Windows Phone 7 has yet to release to the CDMA-based carriers ), the device still enjoys wider support than the iPhone when it comes to choosing a carrier. On the other hand, Android handily beats Windows Phone 7 and the iPhone in this case, since various vendors support all of the major wireless vendors in some way
3.2. Cons:
3.2.1. No on-device encryption. (Note: This won't be a "con" for everyone.) From a security perspective, on-device encryption is pretty important and can make or break a device. If you require encryption, you're out of luck with the current release of Windows Phone 7, as the system does not support data encryption yet, nor does it support removable storage. Lack of support for removable storage can actually be a security feature for some, though.
3.2.2. Limited ActiveSync support. Windows Phone 7 doesn't support the full range of Exchange ActiveSync policies. Check out Microsoft's fantastic Exchange ActiveSync Client Comparison Table to see which ActiveSync features are supported by Windows Phone 7. (The table also features a number of mobile device platforms, including Windows Mobile 6.5, iOS 4.2, Android, Web OS, and more.) Also look at Microsoft's Wiki entitled Exchange ActiveSync Considerations When Using Windows Phone 7 Clients, which provides more information about Windows 7 as it relates to ActiveSync.