Validity and Reliability
by
Kara K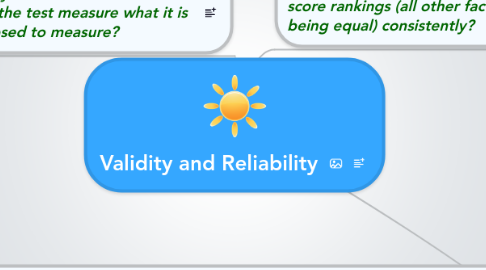 0.0
stars - reviews range from
0
to
5
Validity and Reliability
Kubiszyn, T. & Borich, G. (2010). Educational testing & measurement: Classroom application and practice (9th ed.). John Wiley & Sons, Inc., Hoboken, NJ.
Validity: Does the test measure what it is supposed to measure?
(Kubiszyn & Borich, 2010)
What is "validity evidence"? Validity evidence is just that-- evidence that demonstrates that a test measures what it says it measures.
(Kubiszyn & Borich, 2010)
Types of Validity Evidence
Reliability: Does the test yield the same or similar score rankings (all other factors being equal) consistently?
(Kubiszyn & Borich, 2010)
In other words, reliability refers to the consistency with which a test yields same rank for individuals who take the test more than once.
(Kubiszyn & Borich, 2010)
Types of Reliability Methods
Validity and reliability are vital components of learning and assessment, as they provide the methods and tools necessary to vet various forms of measurement. Vetting these various forms of measurement helps to ensure that the tests are measuring what they are supposed to be measuring, and that they consistently yield the same (or similar) scoring (assuming other factors are all equal).
(Kubiszyn & Borich, 2010)