TEDxCapU
by Dan Taylor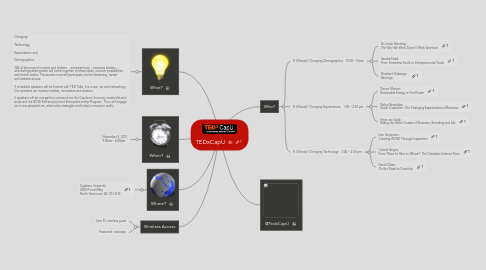 1. Who?
1.1. R U Ready? Changing Demographics 10:00 – Noon
1.1.1. Dr. Linda Manning: The Way We Work Doesn't Work Anymore
1.1.2. Sandra Todd: From Homeless Youth to Entrepreneurial Youth
1.1.3. Shadrach Kabango: Bearings
1.2. R U Ready? Changing Expectations 1:00 – 2:30 pm
1.2.1. Donna Morton: Renewable Energy is First Power
1.2.2. Nolan Remedios: Social Capitalism: The Changing Expectations of Business
1.2.3. Peter van Stolk: Riding the Roller Coaster of Business, Branding and Life
1.3. R U Ready? Changing Technology 3:00 – 4:45 pm
1.3.1. Ivan Surjanovic: Creating WOW! Through Inspiration
1.3.2. Cybele Negris: From There to Here to Where? The Canadian Internet Story
1.3.3. David Olsen: On the Road to Creativity
2. Where?
2.1. Capilano University 2055 Purcell Way North Vancouver, BC V7J 3H5
3. What?
3.1. Changing: Technology, Expectations and Demographics 384 of Vancouver's movers and shakers… entrepreneurs… business leaders… and distinguished guests will come together to share ideas, uncover possibilities and stretch brains. Thousands more will participate via live streaming, twitter and website access. 9 incredible speakers will be framed with TED Talks, live music, art and networking. Our speakers are industry leaders, innovators and creators. 2 speakers will be competition winners from the Capilano University student/alumni body and the BOSS Self-employment Entrepreneurship Program. They will engage us in new perspectives, alternative strategies and today's consumer reality.
4. When?
4.1. November 5, 2011 9:00am - 6:00pm
5. @TedxCapU
6. Wireless Access
6.1. User ID: wireless guest
6.2. Password: tedxcapu