Shadrach Kabango: Bearings
by Dan Taylor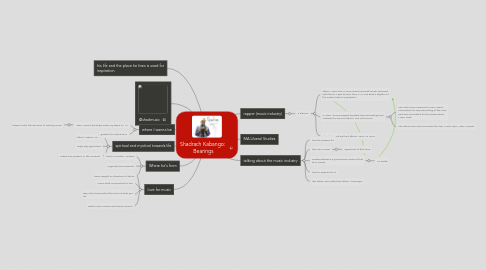 1. @shadmusic
2. rapper (music industry)
2.1. 3 albums
2.1.1. album When This Is Over (2005) was self-made, financed with the $17,500 he won from 91.5 The Beat's Rhythm of the Future talent competition
2.1.2. In 2007, he was signed by Black Box Recordings and released his second album, The Old Prince.
2.1.2.1. The Old Prince received a Juno Award nomination for Rap Recording of the Year, and was nominated for the 2008 Polaris Music Prize.
2.1.2.2. The album was also nominated for two MuchMusic Video Awards.
2.1.3. Shad released his third album, TSOL, in 2010.
3. MA Liberal Studies
4. talking about the music industry
4.1. hard to prepare for
4.2. first CD in 2005
4.2.1. significant at that time
4.3. Facebookwasn't a great social media at that time (2005)
4.3.1. no twitter
4.4. how to prepare for it
4.5. last album was called two album "bearings"
5. love for music
5.1. versatile in music taste
5.2. music itself is important to him
5.3. stay a fan first! protect the love of what you do.
5.4. watch music videos and dance around
6. Where he's from
6.1. lived in London, Ontario
6.2. originally from Rwanda
6.3. bears weight on direction of album
7. spiritual and mystical towards life
7.1. reflect "where I'm at"
7.2. helps stay grounded
7.3. makes him present. in the moment.
8. where I wanna be
8.1. "who I wanna be helps order my steps in" >>
8.1.1. helped make the decision of making music
8.2. grateful for where he is
9. his life and the place he lives is used for inspiration