TOPIC 1 : OVERVIEW OF FINANCIAL PLANNING
by AZLINA HAMDAN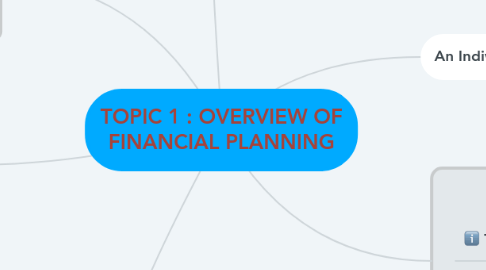 1. Life Stages
1.1. 1. graduation
1.1.1. 2. marriage
1.1.1.1. 3. children
1.1.1.2. 4. divorce
1.1.1.2.1. 5. career change
2. Time value of money
2.1. This is a key principle of economics that states as long as money can earn interest, any amount of money is worth more the sooner it is received.
2.1.1. "RM1 today is more valuable than RM1 in the future"
2.2. IMPORTANT TO INVESTOR
3. Compound interest
3.1. COMPOUND INTEREST DIFFERS FROM SIMPLE INTEREST IN THAT SIMPLE INTEREST IS CALCULATE SOLELY AS A PERCENTAGE AS A PRINCIPAL.
3.2. THE POWER OF COMPOUND INTEREST IS THAT WITH COMPOUND INTEREST,THE EARLIER YOU START SAVING, THE GREATER THE INTEREST ACCUMULATE ON YOUR ORIGINAL INVESTMENT
3.2.1. Refer to saving made by Ahamd, Siti and Zainal
3.3. IT MEANS THE MORE MONEY YOU KEEP ASIDE NOW - THE FASTER YOU CAN FULL FILL YOUR DREAMS
4. 5 Steps In Financial Planning
4.1. 2. Setting goals
4.1.1. 1.Assessing where you are now in financial terms.
4.2. 3. Creating financial plan
4.3. 4. Implementing the plan
4.4. 5. Monitoring and reassessing
5. An Individal's Financial Life Cycle.
5.1. Stage1 : Basic Wealth Protection
5.1.1. Stage2 : Wealth Accumulation
5.1.1.1. Stage3 : Wealth Distribution
5.2. In this stage, the individual should be focusing on building financial security.
5.2.1. The household head has reached peak earning years, is accumulating wealth, approaching retirement.
5.2.1.1. The stages involves the consumption of wealth, usually during retirement.
6. Benefit of financial planning
6.1. More control in our financial affairs
6.2. Better personal relationship
6.3. Sense of freedom from financial worries
6.4. More effective