Student Bank Accounts
by Walaiparn Gibson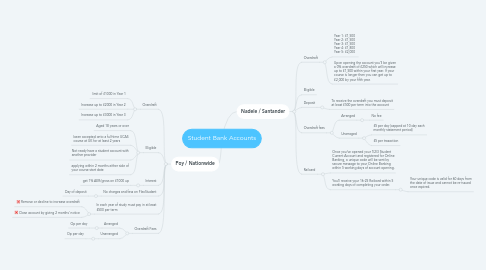 1. Nadele / Santander
1.1. Overdraft
1.1.1. Year 1: £1,500 Year 2: £1,500 Year 3: £1,500 Year 4: £1,800 Year 5: £2,000
1.1.2. Upon opening the account you'll be given a 0% overdraft of £250 which will increase up to £1,500 within your first year. If your course is longer then you can get up to £2,000 by your fifth year.
1.2. Eligible
1.3. Deposit
1.3.1. To receive the overdraft you must deposit at least £500 per term into the account
1.4. Overdraft fees
1.4.1. Arranged
1.4.1.1. No fee
1.4.2. Unarraged
1.4.2.1. £5 per day (capped at 10 day each monthly statement period)
1.4.2.2. £5 per trasaction
1.5. Railcard
1.5.1. Once you've opened your 1l2l3 Student Current Account and registered for Online Banking, a unique code will be sent by secure message to your Online Banking within 5 working days of account opening.
1.5.2. You'll receive your 16-25 Railcard within 5 working days of completing your order.
1.5.2.1. Your unique code is valid for 60 days from the date of issue and cannot be re-issued once expired.
2. Poy / Nationwide
2.1. Overdraft
2.1.1. limit of £1000 in Year 1
2.1.2. Increase up to £2000 in Year 2
2.1.3. Increase up to £3000 in Year 3
2.2. Eligible
2.2.1. Aged 18 years or over
2.2.2. been accepted onto a full-time UCAS course at UK for at least 2 years
2.2.3. Not ready have a student account with another provider
2.2.4. applying within 2 months either side of your course start date
2.3. Interest
2.3.1. get 1% AER/gross on £1000 up
2.4. No charges and fess on FlexStudent
2.4.1. Day of deposit
2.5. In each year of study must pay in at least £500 per term
2.5.1. Remove or decline to increase overdraft
2.5.2. Close account by giving 2 months' notice
2.6. Overdraft Fees
2.6.1. Arranged
2.6.1.1. Op per day
2.6.2. Unarranged
2.6.2.1. Op per day