Multicultural and Bilingual Special Education
by
Melinda Darrow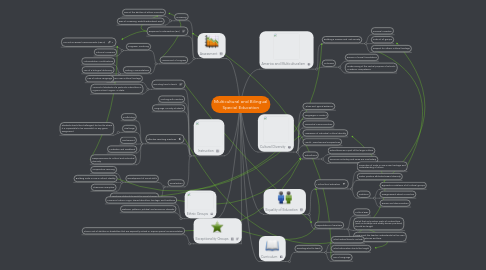 0.0
stars - reviews range from
0
to
5
Multicultural and Bilingual Special Education
Cultural Diversity
Values and Typical Behavior
Languages or Dialect
Nonverbal Communication
Awareness of Individual Cultural Identity
World Views/General Perspectives
Subcultures
Equality of Education
Multicultural education
One of the purposes of Multicultural Education is to increase the understanding of the subculture of Exceptionality and its relationship to other groups.
Expectations of Teachers
Curriculum
Deciding what to teach
Instruction
Deciding how to teach
Deciding how to teach a diverse classroom depends upon the teacher's expectations of students and their abilities.
Working with Families
Language Minority Students
Effective Teaching Practices
Teachers must have a knowledge and understanding of their own cultures and biases to be able to maintain effective teaching strategies for the classroom.
Socialization
Ethnic Groups
Common historic origin, shared identities, heritage, and traditions
Behavior patterns- political and economic interests
Exceptionality Groups
Ethnicity should not be mistaken for education exceptionality, i.e., the inability to read or speak english may cause a particular child of a different ethnicity to have a disability, but this inability might be considered unimportant in a different culture.
Share a set of abilities or disabilities that are especially valued or require special accommodation
Assessment
Screening
Response to Intervention (RTI)
RTI lowers the bias of the abilities of ethnic minorities through the use of CBMs.
Assessment of Progress
America and Multiculturalism
Building a Diverse and Just Society
Criticisms