ERP-software
by Verfaillie Cédric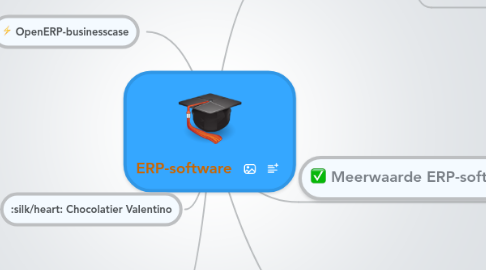 1. OpenERP-businesscase
1.1. Welke modules geïnstalleerd?
1.1.1. - Stock Module
1.1.2. -Account Module
1.1.3. - Purchase Module
1.1.4. - Sale Module
1.2. Welke modules niet geïnstalleerd?
1.2.1. - Costumer Relationship Module
1.2.2. - Project Module
1.2.3. - Invoicing Module
1.2.4. - Knowledge Module
1.2.5. -Manufacturing Module
1.2.6. - Human Resources Module
2. Wat is ERP?
2.1. ERP is de afkorting van de Engelse term 'Enterprise Resource Planning'
2.2. Doel van ERP is de productiviteit van het bedrijf te verbeteren en de kosten te beheersen. Deze verbeteringen worden gerealiseerd door de geïntegreerde afhandeling van alle administratieve, logistieke en financiële activiteiten.
2.3. ERP levert vooral ondersteuning voor de interne bedrijfsprocessen. Het is de basis voor een bedrijfsbrede automatiseringsoplossing.
3. Meerwaarde ERP-software
3.1. Maakt organisatie sneller en effectiever
3.2. ERP verbetert uw klantgerichtheid
3.2.1. INS to insert (Windows)
3.2.2. TAB to insert (Mac OS)
3.2.3. ENTER to add siblings
3.2.4. DEL to delete
3.2.5. Press F1 to see all key shortcuts
3.3. Betere interne communicatie
3.4. ERP zoekt zwakke plekken van het bedrijf en stippelt verbetertraject uit.
4. Chocolatier Valentino
4.1. Accounting & Finance Module
4.2. Order Administration Module
5. ERP = robuuste tractor ; CRM = snelle auto
5.1. ERP : verricht enkel hard werk binnenskamers, binnen de onderneming en het is niet bedoeld om informatie door te spelen naar de buitenwereld.
5.2. CRM : is bedoeld voor alle stakeholders. Het is gericht om een betere en snellere service te leveren.
6. 3 nuttige tips
6.1. Bepaal welke modules je nodig hebt, zodat je je ERP-software zoveel mogelijk aanpast aan de noden van het bedrijf.
6.2. Maak voldoende tijd vrij om het systeem te implementeren en optimaliseren.
6.3. Optimaliseer je ERP-systeem waar nodig.