Mizaru Good Practice Guide
by
Peter Chatterton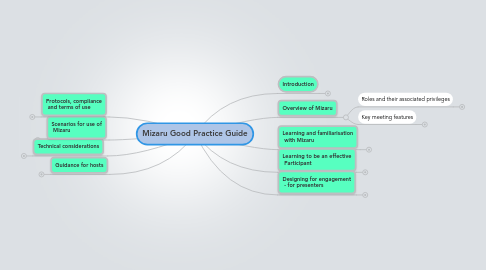 0.0
stars - reviews range from
0
to
5
Mizaru Good Practice Guide
Introduction
What is Mizaru?
Online system to support collaboration in real time, Audio-conferencing, Video-conferencing, Real-time polling and quizzes (including multiple choice questions), Screen and document sharing, Text chatting (messaging), Playing of audio and video files, Whiteboard (a shared space that everyone can see, allowing participants to draw/write on), Shared web browsing - called "web tour" (allowing all participants to follow one person as they browse the web), Break-out rooms (for small-group discussions and collaboration), Note taking, Recording of sessions allowing playback at a later time, Exchange files
In what situations can Mizaru be used effectively?
Key drivers for using Mizaru, Participants are geographically dispersed e.g. in distance learning, work-based learning scenarios, Needing to build a community of collaborative distance learners, Situations where it is difficult to get participants to attend a face-to-face session, particularly at short notice, You wish to improve efficiency and keep session costs to a minimum by e.g. by avoiding travel time and costs, Situations where travelling is difficult or costly for participants e.g. in poor weather conditions, transport strikes, Situations where you require participants to engage with different learning models and computer-based learning activities e.g. polls, discussions, multimedia applications, web-browsing, Situations where you want students to develop their Digital Literacy skills, You wish to minimise impact on the environment
Typical scenarios of use, Conferences, Totally online conferences, Combined physical & virtual conferences, Teaching, learning and assessment, Tutorials, seminars and study sessions, Student project work, Guest speakers, Assessors and verifiers, Learning programme design, Workshops, Mentoring, Virtual labs, Learning programme design, Office / collaborative / project working, CPD & training, Virtual office, Meetings, Workshops, Brain-storming ideas for a new education programme specification or a new project, Preparing a funding bid, Meetings with partner institutions in scenarios of collaborative provision, Conferences, Totally online conferences, Combined physical & virtual conferences, Partnership working, Public and community engagement
Minimum technology requirements, Computer, Connection, Audio/video devices
Minimum skills, Hosts, Presenters, Participants
Advantages and disadvantages of using Mizaru
Advantages, It can help build learner peer collaboration and a sense of community, particularly with distance learning/work-based learners., It can be used to support a wide range of teaching/learning methods and styles, potentially in highly engaging and collaborative forms., Recording of sessions allows learners to access them anytime e.g. to help re-enforce the learning and all participants can save the Whiteboard, text-chats, screen images etc., It allows external participants to cost-effectively participate live in sessions e.g. external experts, external examiners, mentors, supervisors, assessors and interviewees., It extends geographical reach - to anyone with an Internet connection and computer., It provides greater flexibility to arrange sessions cost-effectively without participants having to travel, as well as providing potential savings in travel costs., It can be used in a multitude of ways in addition to teaching, learning and assessment e.g. to support collaborative working (thereby potentially increasing staff efficiency), running of online conferences, socialising, staff professional development and "web-casting" of workshops, seminars, interviews etc., It can be combined and integrated (or "blended") with other e-learning methods e.g. VLEs, asynchronous discussions, wikis., It is a multi-platform device e.g. PCs, Apples, Linux-based, Tablets systems therefore most participants are likely to be able to access it.
Disadvantages, Unsatisfactory meeting sessions can result from poor preparation in respect of technology set-up, training (for hosts, presenters and participants) and meeting design., Using an online system where other methods e.g. face-to-face would be more appropriate
The need for this Guide - a focus on engagement
Learning and familiarisation with Adobe Connect, There is a need to learn and become familiar with a range of tools within Adobe Connect so that their use becomes second nature. A good analogy is with driving a car - once people have mastered the use of the controls, they become second nature, but in the early days of learning, one has to consciously think about using the controls such as the clutch pedal.
Technical issues, There can be technical problems, particularly for those who have not experienced Adobe Connect previously. Sorting out such problems out can eat into the time of a live session and become frustrating for everyone. Audio/video issues are the most likely source of technical problems.
Preparing, structuring and planning Elluminate sessions, It is not unusual for those running an Adobe Connect session to prepare insufficiently, structure and plan their session. It could be said that Elluminate has a tendency to "amplify" either existing good or bad practice and poor preparation is likely to be "exposed" in the virtual environment.
Drawing on existing good practice, Users can have a tendency not to draw on what is basic good practice in more traditional scenarios and apply it within the Adobe Connect environment. In other words, if a tutor is effective at running workshops and seminars that engage students, they should draw on their practice and techniques and apply them appropriately within the Elluminate environment.
Help and support resources
College resources, Guides and support materials, Recorded examples of Mizaru sessions, Technical support, Application support, User group forum
Adobe Connect resources, Adobe Connect Help, Basics of Adobe Connect, Troubleshooting Adobe Connect, Adobe Connect User Community, Adobe Connect tutorials, Other relevant Adobe tools, Adobe Presenter, Adobe Connect Add-in, Adobe Connect Add-in for Microsoft Outlook, Adobe Flash Player
Mizaru resources
Key terminology
Blended learning
Adobe Connect
Meeting
Layout
Pod
Screen sharing
Document sharing
Whiteboard
Poll
Webcam
Overview of Mizaru
Roles and their associated privileges
The three key roles and their privileges, Hosts, Presenters, Participants
How to change roles
Key meeting features
Audio and video-conferencing, Seeing and listening to others, Speaking and showing your webcam video
Pods and layouts, Sharing content, Sharing your desktop and applications, Sharing documents, Sharing whiteboards, Exchanging files, Shared web-browsing, Polls, Questions and answers, Text-chatting, Recording notes, How pods are arranged on the screen by Hosts, Break-out rooms
Recording and saving meeting content
Accessibility features
Learning and familiarisation with Mizaru
Preparing your system
Your computer, Minimum hardware specification, Minimum software specification
Audio and video devices, Preferred devices, Combined headset and microphone, Webcam, Other audio devices, Other video devices
Your connection, Minimum connection specification
Checking your system for Mizaru compatibility
Learning from the Adobe Connect resources
Recorded training materials
Guides
Connecting to Mizaru
Connect before a meeting starts to check your technology works, What to do if you cannot connect, Run the audio setup wizard, Test your audio and video
Introduce yourself, Raising your hand, Text-chat
Practicing with Mizaru
Participants
Presenters
Hosts
Learning to be an effective Participant
Key principles
Tips and hints
Things to avoid
Designing for engagement - for presenters
Key principles to follow
Define purpose and outcomes, Define session purpose, Define session outcomes, Ensure alignment with wider contextual and linked activity objectives
Structure, plan, prepare & design for participant engagement, Participant interaction should be a core and frequent element of the structure, Segment into a series of components to include combinations and permutations of e.g., Presentations (by moderators and participants), Demonstrations (by moderators and participants), Polls and quizzes, Discussions, Individual or collaborative group activities e.g. creation of content, Feedback (from moderators and participants), Link and align session with wider contextual and linked activities (before and after the session), Allow for alternative pathways dependent upon participant feedback, choice and polls/quizzes, Materials should be pre-prepared
Define roles and responsibilities, Roles and responsibilities need to be clearly defined and communicated to all participants, Responsibilities typically include:, Leading, Facilitation, Presentations and demonstrations, identifying, acknowledging, capturing and consolidating ideas, information and knowledge and feeding these back into the session and the wider contextual activities, Technical support, In small groups, several of these responsibilities could be taken on by one (experienced) moderator, though for larger groups they may need to be shared by more than one moderator
Ensure processes exist for identifying, acknowledging, capturing and consolidating ideas, information and knowledge, Define and communicate to all participants the processes for identifying, acknowledging, capturing and consolidating ideas, information and knowledge, Define processes for feeding back into the session and feeding into wider contextual activities
Be creative and innovative, Adopt a creative and innovative approach to the design and delivery of sessions, Aim for continuous improvement in the practice of using Mizaru
Your first session - keep it simple
LT&A scenarios for using Mizaru
Tutorials, seminars and study sessions
Student project work
Guest speakers
Assessors and verifiers
Learning programme design
Workshops
Mentoring
Virtual labs
Learning programme design
Using Mizaru in other scenarios
Learning programme design and development
Office / collaborative / project working
Online conferences and workshops
Public and community engagement
Dealing with key challenges
Information overload and multi-tasking
Difficult participants
Dealing with large student numbers
Guidance for hosts
Using and managing lay-outs
The purpose of layouts
Who can change layouts
Choosing an appropriate layout
Creating a new layout
Managing layouts
Assigning and changing roles
Understanding the privileges that go with different roles
Key tips for assigning roles
Managing Pods
Technical considerations
Dealing with technical problems
Audio and video problems, No audio or video, Audio feedback / echo, Audio lag, Too many participants talking simultaneously
Connectivity problems, Joining a session, Intermittent connection
Computer problems
Options for audio & video devices
Personal devices, Combined headsets/microphones, Combined desktop web-cam and microphone
Group devices, Group audio-conferencing devices, Wireless audio devices, High-end web-cam, Digital video cameras, Directional microphones
Scenarios for use of Mizaru
Teaching, learning and assessment
Tutorials, seminars and study sessions
Student project work
Guest speakers
Assessors and verifiers
Learning programme design
Workshops
Mentoring
Virtual labs
Learning programme design
Office / collaborative / project working
CPD & training
Virtual office
Meetings
Workshops
Brain-storming ideas for a new education programme specification or a new project
Preparing a funding bid
Meetings with partner institutions in scenarios of collaborative provision
Conferences
Totally online conferences
Combined physical & virtual conferences
Partnership working
Public and community engagement
Protocols, compliance and terms of use
Key protocols for acceptable use
Data protection and privacy
Copyright