Team IRAC Case Analysis - Bruesewitz v. Wyeth, LLC
by Anthony DeNuto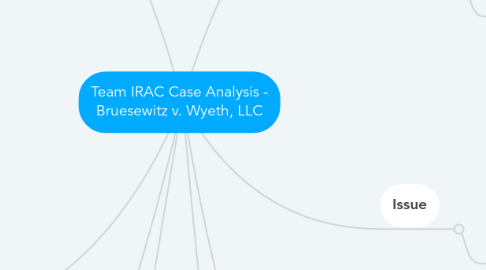 1. Facts
1.1. Parties
1.1.1. Plaintiff: Russell, Robalee, and Hannah Bruesewtiz.
1.1.2. Defendant: Wyeth, LLC, a subsidiary of Pfizer, Inc.
1.2. What Happened?
1.2.1. Two hours after receiving her 6 month DTP vaccine in 1992, Hannah Bruesewitz developed seizures (over 100 during the next month) and was hospitalized for weeks
1.2.1.1. Doctors diagnosed her with residual seizure disorder and development delay.
1.2.1.2. Conditions still exist while Hannah was a teenager.
1.2.1.3. Vaccine removed from the market in 1998 by Wyeth.
1.3. Procedural History
1.3.1. April 1995 Claim filed with NCVIA
1.3.1.1. Claim denied and they elected to reject the unfavorable judgment
1.3.1.1.1. October 2005 filed suit in Pennsylvania state court that the defective design of the vaccine was the cause of Hannah's disabilities and that Lederle (Wyeth) is liable for negligent design under Pennsylvania common law.
1.3.2. Originating Court: Federal District Court
1.3.2.1. The Federal District Court granted summary judgment that relevant Pennsylvania law was pre-empted by 42 U.S.C. 300aa-22(b)(1)
1.3.3. Appellate Court: U.S. Court of Appeals for the Third Circuit
1.3.3.1. The U.S. Court of Appeals for the Third Circuit affirmed the judgment of the lower court.
1.3.4. Granted certiorari. 559 U.S. ____ (2010).
1.3.4.1. The United States Supreme Court
2. Issue
2.1. Plaintiff (Bruesewitz) is claiming strict product liability against the defendant (Wyeth) concerning a vaccine of DTP administered to their daughter, Hannah Bruesewitz.
3. Rule of Law
3.1. Government regulations preempt claims for product liability.
3.2. Six requirements for strict liability in Section 402A
3.2.1. 1. The product must be in defective condition
3.2.2. 2. The defendant must normally be engaged in the business of selling the product
3.2.3. 3. The product must be unreasonably dangerous to the user due to defective condition
3.2.4. 4. The plaintiff must incur physical harm by the use or consumption of the product.
3.2.5. 5. The defective condition must be the proximate cause of the injury or damage
3.2.6. 6. Goods must not have been substantially changed from the time the product was sold to the time injury sustained.
4. Analysis/Application
4.1. Defendant: Section 22(b)(1) of the NCVIA (Vaccine Act) of 1986 which exempt vaccine makers from "unavoidable" vaccine-related injuries or death as long as the vaccine is properly prepared and labeled appropriately. Wyeth claims that this section extends protection against all possible design-defect claims.
4.2. Plaintiff: Argue that Section 22(b)(1) of the NCVIA does not allow complete immunity for vaccine manufacturing companies. The vaccine maker failed to develop a safe vaccine that resulted in a preventable injury as a consequence of the defective design and should be held accountable. The family argues that Wyeth was negligent in the maintenance of the vaccine which caused design defects resulting in preventable harm. They also contend that the vaccine company failed to provide a safer alternative.
4.2.1. 1. Negligent failure to produce a safer vaccine, 2. Negligent failure to warn, 3. Strict liability for design defect, 4. strict liability for manufacturing defect.
4.3. Court: Affirmed lower court (third circuit) decision that defect claims by the plaintiff were preempted by the National Childhood Vaccine Injury Act of 1986. With this ruling, the court reaffirmed the laws that stated that vaccine manufacturers are not liable for vaccine-related injuries if there is appropriate warning or directives by the manufacturer geared towards the consumers. Compensation must go through a special "Vaccine Court" created by the Vaccine Act.
5. Conclusion
5.1. The United States Supreme Court confirmed the ruling of the lower court's judgment. The Supreme Court agreed that the claim should end with the decision of the National Childhood Vaccine Injury Act. the NCVIA was passed to balance the compensation paid for victims of adverse effects of vaccines and to protect pharmaceutical companies from the high cost of tort liability.
6. Impact
6.1. Sykes v. Glaxo-SmithKline: Action was brought against manufacturers of vaccines and immune globulin products by a family. The family claimed that their child suffered from neurological ailments from the use of vaccines as a child. The court ruled that strict liability claims and negligence claims were preempted under the National Childhood Vaccine Injury Act, a similar conclusion to Bruesewitz v. Wyeth, LLC.
6.2. Blackmon v. American Home Products Corporation: Action was brought against a manufacturer of childhood vaccines by a family in Texas state court for supposed injuries sustained from said vaccines. The court ruled that defective and failure-to-warn claims were barred by the National Childhood Vaccine Injury Act, a similar conclusion as Bruesewitz v. Wyeth, LLC
7. Importance
7.1. Vaccine manufacturers: Protected by this decision in upholding NCVIA protection. Future cases brought against manufacturers will be harder to win based on the decision made in this particular case.
7.2. Public Health Sector: Vaccinations are a public health benefit with protections in place for both manufacturers and consumers alike.
8. Influence
8.1. Medical field: Mandatory vaccination schedules vs school enrollment requirements all hinge on vaccination schedules.
8.2. General Public: Anti-vaccination movement which advocates against the use of vaccinations due to possible (or perceived) adverse effects on the patient. Also, the public health sector is boosted by this decision since vaccines are a vital public health matter due to overwhelming evidence for their use to protect against preventable diseases and limited risks.