RESEARCH
by Karina Marquez Reyes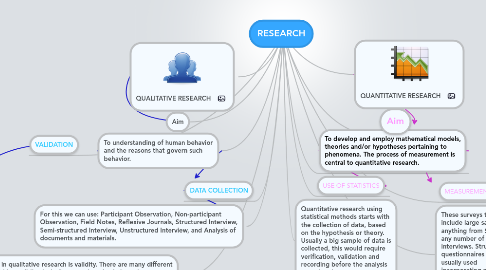 1. A central issue in qualitative research is validity. There are many different ways of establishing validity, including: member check, interviewer corroboration, prolonged engagement, negative case analysis, auditability, confirmability, etc.
2. VALIDATION
3. To understanding of human behavior and the reasons that govern such behavior.
4. For this we can use: Participant Observation, Non-participant Observation, Field Notes, Reflexive Journals, Structured Interview, Semi-structured Interview, Unstructured Interview, and Analysis of documents and materials.
5. DATA COLLECTION
6. Aim
7. These surveys tend to include large samples, anything from 50 to any number of interviews. Structured questionnaires are usually used incorporating mainly closed questions, questions with set responses.
8. Quantitative research using statistical methods starts with the collection of data, based on the hypothesis or theory. Usually a big sample of data is collected, this would require verification, validation and recording before the analysis can take place.
9. MEASUREMENT
10. USE OF STATISTICS
11. To develop and employ mathematical models, theories and/or hypotheses pertaining to phenomena. The process of measurement is central to quantitative research.
12. Aim
13. QUANTITATIVE RESEARCH
14. QUALITATIVE RESEARCH