STUDENT SUCCESS Map for College Freshmen
by
Toni Krasnic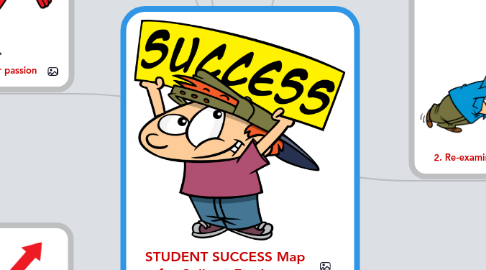 0.0
stars - reviews range from
0
to
5
STUDENT SUCCESS Map for College Freshmen
1. Accept personal responsibility for your learning and success
Don't be a zombie; take control of your life
College is a new beginning
Stop blaming others
Responsibility doesn't mean that you don't make mistakes; it means that you accept consequences for them
Shortcuts will get you nowhere fast
Take charge now and keep it up
2. Re-examine everything
Great opportunity for a fresh start
Don't self-judge
Mindset
Skills
How are you learning?
3. Set goals and pursue them
Begin with the end
Be proactive
Measure progress toward goals
Finish what you start
Update goals over time as priorities and resources change
4. Commit to lifelong learning & growth
Never stop learning
Continuously improve
Keep a balance
Do your best
Give back to others
5. Discover and follow your passion
What do you want to do after you graduate?
Find your passion
Follow your passion
Bottom Line
Your success depends on your acceptance of your personal responsibility for your learning and success
Info
Toni Krasnic, author of Concise Learning
Cartoons by Ron Leishman