LICENCIAS DELSOFTWARE
by Tatiana Jaramillo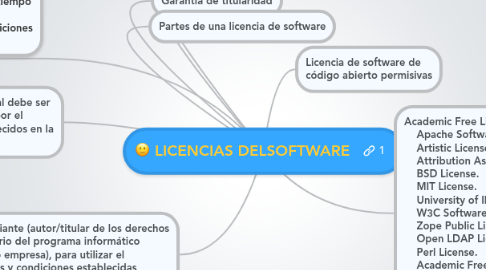 1. Licenciatario
2. Garantía de titularidad
3. Licenciante
4. Partes de una licencia de software
5. CONCEPTO: es un contrato entre el licenciante (autor/titular de los derechos de explotación/distribuidor) y el licenciatario del programa informático (usuario consumidor /usuario profesional o empresa), para utilizar el software cumpliendo una serie de términos y condiciones establecidas dentro de sus cláusulas.
6. Elementos objetivos de una licencia de software PLAZO El plazo determina la duración en el tiempo durante la cual se mantienen vigentes los términos y condiciones establecidos en licencia
7. Licencia de software de código abierto permisivas
8. Academic Free License v.1.2. Apache Software License v.1.1. Artistic License v.2.0 Attribution Assurance license. BSD License. MIT License. University of Illinois/NCSA Open Source License. W3C Software Notice and License. Zope Public License v.2.0 Open LDAP License v.2.7 Perl License. Academic Free License v.3.0 Python License v.2.1 PHP License v.3.0 Q Public License v.1.0
9. PRECIO:El precio determina el valor el cual debe ser pagado por el licenciatario al licenciante por el concepto de la cesión de derechos establecidos en la licencia.