Copy of Doggy Day Care SWOT Analysis
by
Austin Cadden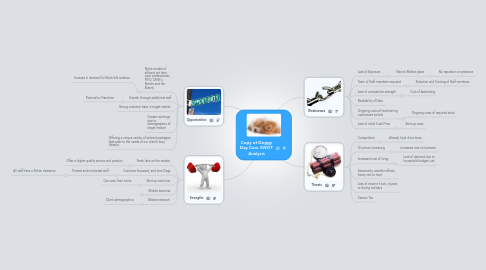 0.0
stars -
0
reviews range from
0
to
5
A variety of services on offer including Walking, Feeding, Grooming (washing, clipping, colouring, massaging), we will even turn on your retic and water you pot plants, and even clear the mail. Offering a higher level of Care and Service with Trained Professionals Cattering to the Time Poor Professionals with Families, Busy Mums, Fly in Fly out workers, Career driven couples, Retires and the Elderly who don't have the time to give the love their special dog requires.
Opportunities
With the opportunity to tap into the niche market of affluent time poor professionals that want to provide the love and care that their "Best Friend" requires but don't have the time in their busy lives. Targeting young professional families and couples, fly-in fly-out workers, busy Mums, holiday makers and frequent flyers, as well as retires and the eldery · We will even turn your reticulation on and water any pot plants, as well as clear your mail. · Offering a higher level of Care and Service with Trained Professionals · A variety of services on offer including Walking, Feeding, Grooming (washing, clipping, colouring, massaging).  
Niche market of affluent yet time poor professionals, FIFO, DINK's, Retires and the Elderly
Growth through additional staff
Strong customer base in target market
Greater earnings due to demographics of target market
Offering a unique variety of tailored packages; that cater to the needs of our client's busy lifestyle.
Strengths
The quality of our product and the variety of services offered. Combining the Dog Grooming side of the business with Dog walking, as well as basic at home care, whilst a Client is traveling overseas or interstate; turning on of reticulation, watering of pot plants, and clearing the mail. The research of our Target Market, with a campaign that appeals to Time Poor Professionals; reminding them of the realities and the stresses of modern living, really tapping into the clients mind set. Motivated, friendly and customer focused Staff. Market Research on Target Market. Market Research on competitors which gives a base platform to how the industry works.
Fresh face on the market
Customer focussed, and love Dogs
Start up costs low
Mobile business
Market research
Threats
Two major threats to the success and survival of DDC are our competition and the economic uncertainty with the ever increasing cost of living. Our competition already has an established market base, whose clients may be loyal and would be unwilling to change; remembering that their beloved pet is already familiar with that service provider. Animals are unpredicted and may not take a liking to our team members. With the introduction of the Carbon tax and the cost of living set to rise, even the most affluent may start reframing from indulging in non-essential house hold products and services.
Competition
Oil prices increasing
Increased cost of living
Seasonality, weather effects, heavy rain or heat
Loss of income if sick, injured, or during holidays
Carbon Tax
Weaknesses
The harsh reality is, that are Target Market has no idea who we are and what we represent. We are starting Doggy Day Care (DDC) from scratch and we need to get our message out, that we have a passion for dogs and provide a higher standard of care as well as a variety of tailored packages. Advertising costs money and so does the initial starting costs of the vehicle and supplies. There is the problem of a lack of cash flow during the early life of the business. No one knows who are, and we have to establish a client base quickly in order to obtain cash flow to the business and build a reputation. This is not a one person show, and a team of staff members, minimum of three, would be required to get the business off the ground.
Lack of Exposure
Team of Staff members required
Lack of competitive strength
Realiability of Data
Ongoing costs of maintaining customized vehicle
Lack of initial Cash Flow