Weaving Your Web 2.0 PeRSSonal, Selfguided Learning, and RSSearch
by
Ulrich Schrader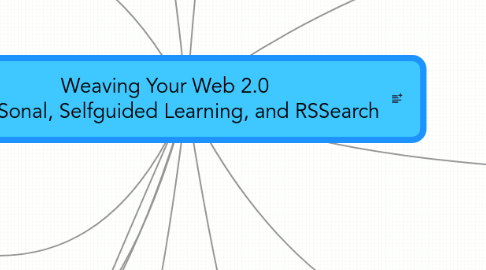 4.8
stars -
5
reviews range from
0
to
5
Weaving Your Web 2.0 PeRSSonal, Selfguided Learning, and RSSearch
"PeRSSonal" first seen on the Informaticopia blog. Term has been phrased by Peter Murray.
RSS - Format
Integrator/Interface Standard
Standard
RSS is a standard in the way that it is not even defined what the abbreviation stands for. Still it is a practical standard that mostly works!
Weblog (Blog)
Notebook
Platform for communication
RSS-Feeds
Examples
Blogreader
Subscribing of RSS-Feeds
"Pull" not "Push"
Like a postbox, just over the web
Create your own newspaper/journal
Browser-based
Web-based
Participative Web
Participative web
Everyone can participate and share!
Services
Use, Remix, Share
Paradigm "Sharing"
Learning content
Relevance
Usability
Interactivity
Informal Learning
Self guided
Search for content
Search generates new RSS-Feeds
Personal Learning Environment (PLE)
Content Management Systems (CMS)
Not institutionally dependend
Learning Management Systems
Institutionelle Learning Management Systeme haben den Nachteil, dass nach Abschluss des Studiums die Inhalte in der Regel nicht mehr verfügbar sind. Bestenfalls müssen diese aus mehreren LMS zusammengesucht werden.
RSS-Aggregator
Custom Search Engines
Legal aspects
Code of Conduct
Building your professional network (Your community)
Follow authors
Comment
Offer own content
Be followed
Modelled after Chris Brogan's Blog
Before
During