Klimt year 2012
by Sabine Maria Steiner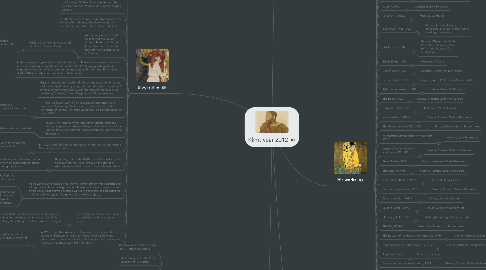 1. Biographie
1.1. Born on the 14th of July 1862 in Baumgarten near Vienna
1.2. He was the second of seven children. Klimt lived in poverty for most of his childhood.
1.3. In 1876 Klimt was awarded a scholarship to the Vienna school of Art and Crafts where he studied until 1883
1.3.1. He received training as an architectural painter
1.3.1.1. 1877 one of his brothers Ernst enrolled in this school. The two brothers and his friend Franz Matsch began working together. 1880 they had receive numerous commissions as a team they called "Company of artists"
1.3.1.2. They helped their teachers painting murals in the Kunsthistorisches Museum in Vienna
1.3.1.3. After finishing his studies, Klimt opened a studio together with Matsch and Ernst Klimt. The trio specialized in interior decoration, particularly theaters.
1.4. In 1885, they were commissioned to decorate the Empress Elizabeth's country retreat, the Villa Hermes near Vienna (Midsummer Night's Dream).
1.5. In 1886, the painters were asked to decorate the Viennese Burgtheater, effectively recognizing them as the foremost of decorators of Austria.
1.6. At the completion in 1888 he received the Golden order of Merit from Emperor Franz Josef for the murals painted in the Burgtheater in Vienna.
1.6.1. 1888, the painters were awarded the Golden Service Cross.
1.6.1.1. As a result Klimt became a fashionable portraitist, as well as the leading artist of his day.
1.6.1.1.1. Paradoxically, it was at this point, with a fabulous career as a classicist painter unfolding before him, that Klimt began turning towards the radical new styles of the Art Noveau.
1.7. In the coming few years, the artistic trio fell apart. Franz Matsch wanted to branch out into portrait painting.Meanwhile, Gustav Klimt's changing style made it impossible for them to work together on any project. Furthermore, Ernst Klimt died in 1892, shortly after the death of their father.
1.8. Gustav retreated from public life, focusing on experimentation and the study of contemporary styles of art, as well as historical styles that were overlooked within the establishment, such as Japanese, Chinese, Ancient Egyptian and Mycenaean art.
1.9. In 1893, he began work on his last public commission: the paintings Philosophy, Medicine and Jurisprudence, for the University of Vienna. The three would only be completed in the early 1900s.
1.9.1. Unfortunately, the paintings were destroyed during the Second World War and only black-and-white reproductions of them remain.
1.10. In 1897, he, together with forty other notable Viennese artists, resigned from the Academy of Arts and founded the "Union of Austrian Painters", more commonly known as the Secession.
1.10.1. Klimt was immediately elected president
1.10.1.1. While the Union had no clearly defined goals or support for particular styles, it was against the classicist establishment, which it found to be oppressive.
1.11. In 1902, Klimt finished the Beethoven Frieze for the 14th Vienna Secessionist exhibition.
1.11.1. Meant for the exhibition only, the frieze was painted directly on the walls with light materials.
1.11.1.1. After the exhibition the painting was preserved, although it did not go on display until 1986.
1.12. Beginning in the late 1890s he took annual summer holidays with the Flöge family on the shores of Attersee and painted many of his landscapes there.
1.12.1. Formally, the landscapes are characterized by the same refinement of design and emphatic patterning as the figural pieces.
1.13. As he worked and relaxed in his home, Klimt normally wore sandals and a long robe with no undergarments. He avoided café society and other artists socially.His painting method was very deliberate and painstaking at times and he required lengthy sittings by his subjects.
1.13.1. Though very active sexually, he kept his affairs discreet and he avoided personal scandal.
1.13.2. He was never married but had of course a few affairs with women and he is reputed to have 17 children with different women.
1.14. Klimt's 'Golden Phase' was marked by positive critical reaction and success.
1.14.1. Klimt travelled little but trips to Venice and Ravenna, both famous for their beautiful mosaics, most likely inspired his gold technique and his Byzantine imagery.
1.14.1.1. In 1904, he collaborated with other artists on the lavish Palais Stoclet, the home of a wealthy Belgian industrialist, which was one of the grandest monuments of the Art Nouveau age.
1.15. In 1915 his mother Anna died. Klimt died three years later in Vienna on February 6, 1918, having suffered a stroke and pneumonia. He was buried at the Hietzing Cemetery in Vienna. Numerous paintings were left unfinished.
1.15.1. Klimt's paintings have brought some of the highest prices recorded for individual works of art.
1.15.1.1. In 2006, the 1907 portrait, Adele Bloch-Bauer I, was purchased for the Neue Galerie in New York by Ronald Lauder for a reported US $135 million
2. His works
2.1. Marie Breunig, 1849
2.1.1. Private ownership in Vienna
2.2. The Music, 1895
2.2.1. Munich, New Pinakothek
2.3. Pallas Athene, 1898
2.3.1. Museum Vienna
2.4. Sonja Knips, 1898
2.4.1. Vienna, Austrian Gallery Belvedere
2.5. Nuda Veritas, 1899
2.5.1. Vienna, Austrian Museum of Theater
2.6. Judith I, 1901
2.6.1. Austrian Gallery Belvedere
2.7. Goldfish, 1901/02
2.7.1. Museum Solothurn
2.8. Beethoven-Fries,1902
2.8.1. Vienna, Austrian Gallery Belvedere, as a loan in the Vienna building of secession
2.9. Stoclet-Fries, 1905
2.9.1. Brussels, Diningroom in the Palais Stoclet, Vienna blue print in the Museum for applied art
2.10. Emilie Flöge, 1902
2.10.1. Museum of Vienna
2.11. Beech forest, 1902
2.11.1. Dresden, Gallery of New Master
2.12. Life is a fight, 1903
2.12.1. Nagoya, Aichi Prefectural Museum of Art
2.13. Rising thunderstorm, 1903
2.13.1. Vienna, Leopold Museum
2.14. The hope, 1903
2.14.1. Ottawa, National Gallery of Canada
2.15. Hermine Gallia, 1904
2.15.1. London, National Gallery
2.16. Water snakes, 1904–07
2.16.1. Vienna, Austrian Gallery, Belvedere
2.17. The three periods of life, 1905
2.17.1. Rom, Gallery National Modern Arts
2.18. Margarethe Stonborough-Wittgenstein, 1905
2.18.1. Munich, New Pinakothek
2.19. Garden of a farmer with sunflowers, 1905/06
2.19.1. Vienna, Austrian Gallery Belvedere
2.20. Fritza Riedler, 1906
2.20.1. Vienna, Austrian Gallery Belvedere
2.21. The Kiss, 1907/08
2.21.1. Vienna, Austrian Gallery Belvedere
2.22. Adele Bloch-Bauer I, 1907
2.22.1. New York, New Gallery
2.23. Grassland of poppies, 1907
2.23.1. Vienna, Austrian Gallery, Belvedere
2.24. Death and Life, 1908–11
2.24.1. Vienna, Leopold Museum
2.25. Salome (Judit II), 1909
2.25.1. Venice, Gallery of Modern Art
2.26. Flowering field, 1909
2.26.1. Pittsburgh, Carnegie Museum of Art
2.27. The Par, 1909-10
2.27.1. New York, Museum of Modern Art
2.28. The palacel of Kammer on the Attersee, 1910
2.28.1. Vienna, Austrian Gallery Belvedere
2.29. A farmer's house in Buchberg, 1911-12
2.29.1. Vienna, Austrian Gallery Belvedere
2.30. Appletree, 1912
2.30.1. Private ownership
2.31. Avenue to the palace Kammern, 1912
2.31.1. Vienna, Austrian Gallery Beledere
2.32. Adele Bloch-Bauer II., 1912
2.32.1. Since 2006 private ownership
2.33. Church in Cassonne, 1913
2.34. The Virgine, 1912-13
2.34.1. Prague, National Gallery Prague
2.35. Litzlberg on the Attersee, 1914
2.35.1. Sold at auction on 2011 in New York
2.36. Church in Unterach on the Attersee, 1916
2.36.1. Graz, Collection Fritz Böck
2.37. Friederike Maria Beer, 1916
2.37.1. Tel Aviv-Jaffa, Museum of Art
2.38. Adam und Eva, 1917/18
2.38.1. Vienna, Austrian Gallery Belvedere
2.39. Johanna Staude, 1917/18
2.39.1. Vienna, Austrian Gallery Belvedere
2.40. Baby, 1917/18
2.40.1. Private Ownership
2.41. More of his works you can find in Art Institute of Chicago, Detroit Institute of Arts and the Museum of Orsay in Paris
3. Exhibitions 2012- the 150th birthday of Gustav Klimt
3.1. Vienna
3.1.1. 25. Oktober 2011 bis 4. März 2012, Bottom Belvedere
3.1.2. 14. Februar bis 6. Mai 2012 Museum of Art Histroy
3.1.3. 24. Februar bis 27. August 2012, Leopold Museum
3.1.4. 14. März bis 10. Juni 2012, Albertina
3.1.5. 21. März bis 15. Juli 2012, MAK Museum for applied art
3.1.6. 23. März bis 4. November 2012, Secession Vienna
3.1.7. 10. Mai bis 29. Oktober 2012, Austrian Museum of Theater
3.1.8. 16. Mai bis 16. September 2012, Museum of Vienna
3.1.9. 6. Juli bis 2. September 2012, House of Artists
3.1.10. 12. Juli 2012 bis 6. Jänner 2013, Top Belvedere
3.1.11. 25. Mai bis 14. Oktober 2012, Austrian Museum for folklore
3.1.12. 22. November 2012 bis Jänner 2013, Secession
4. Klimt Musical in the house of artists in Vienna, Karlsplatz 5, 1010 Vienna
4.1. Sa, 01.09.2012 19:30 Premiere
4.2. So, 02.09.2012 - Mo, 03.09.2012 19:30
4.3. Mi, 05.09.2012 - Mo, 10.09.2012 19:30
4.4. Mi, 12.09.2012 - Mo, 17.09.2012 19:30
4.5. Mi, 19.09.2012 - Mo, 24.09.2012 19:30
4.6. Mi, 26.09.2012 - Mo, 01.10.2012 19:30
4.7. Mi, 03.10.2012 - Mo, 08.10.2012 19:30
5. Style
5.1. Art Nouveau, Youth Style
5.1.1. is an international philosophy and style of art, architecture and applied art, especially the decorative arts that were most popular during 1890–1910
5.1.1.1. The name "Art Nouveau" is French for "new art". It is known also as Jugendstil
5.1.2. A reaction to academic art of the 19th century, it was inspired by natural forms and structures, not only in flowers and plants but also in curved lines.
5.1.2.1. Architects tried to harmonize with the natural environment. It is also considered a philosophy of design of furniture, which was designed according to the whole building and made part of ordinary life.
5.1.3. Art Nouveau was most popular in Europe, but its influence was global
5.1.4. Although Art Nouveau was replaced by 20th-century modernist styles, it is considered now as an important transition between the historicism of Neoclassicism and modernism.
5.1.4.1. Furthermore, Art Nouveau monuments are now recognised by UNESCO with their World Heritage List as significant contributions to cultural heritage.