Beyond WIkipedia - Knowledge Flow in the 21st century
by
Willi Schroll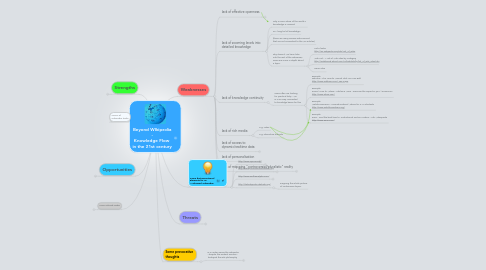 0.0
stars -
0
reviews range from
0
to
5
Beyond WIkipedia - Knowledge Flow in the 21st century
Some provocative thoughts
in a certain sense the wikipedia - despite the evident success - betrayed the wiki philosophy
the WP disconnected from the swarm of wikis all around the world, solution: start a policy of link offerings in the footer, this can be personalized - people can have the classic view too, alternative solution: kind of browser plugin realizing the "footer feature"
the WP community created a de facto threshold, solution: personalize "relevance" criteria
the WP kind of monopolized knowledge, open up to the community and find some new WP editors
Strengths
stabilized knowledge
consens orientation
neutrality
crowdsource based
Weaknesses
lack of effective openness
gatekeeper / high entry
edit wars
lack of zooming levels into detailed knowledge
only a minor share of the world's knowledge is covered
no "long tail of knowledge"
(there are many serious wikis around, that are not connected to the WP articles)
why doesn't WP have links into the rest of the wikiverse? some are more in depth about a topic., List of wikis http://en.wikipedia.org/wiki/List_of_wikis, Wiki List - A List of Wiki Sites by Category http://webtrends.about.com/od/wikilists/tp/list_of_wiki_sites.htm, Neue Idee
lack of knowledge continuity
users often are looking for practical help - WP is in no way connected to knowldge bases for this, Example wikiHow - The How-to Manual That You Can Edit http://www.wikihow.com/Main-Page, Example eHow | How to Videos, Articles & More - Discover the expert in you. | eHow.com http://www.ehow.com/, Example WatchKnowLearn - Free Educational Videos for K-12 Students http://www.watchknowlearn.org/, Example 5min - Find the best how to, instructional and DIY videos – Life Videopedia http://www.5min.com/
lack of rich media
e.g. video
e.g. interactive tutorials
lack of access to dynamic/realtime data
no integrated realtime scanning and tracking of news
lack of personalisation
concerning skill level
concerning interest profile
lack of mapping "controversial/pluralistic" reality
alternative format to hiding controversy behind the scenes, there could be a main article plus two articles with the antagonistic positions
no question that this format should be the exception, not the rule
Opportunities
some new developments in the wikipedia developer community
wikidata initiative, Wikipedia's Next Big Thing: Wikidata, A Machine-Readable, User-Editable Database
"Data Partnering": encouraging institutional data curation with more accurate data
example: having an OECD data pipe directly displaying on WP pages
same with reliable national + transnational institutions like NASA, WHO, statistical offices etc
Threats
new ecosystems for knowledge communication competing with WP
sinking motivation to contribute in the editing
more colored nodes
Neue Idee
Neue Idee
Neue Idee
SWOT of Wikipedia today
Some first inspirational Elements for an "Advanced Wikipedia"
check these approaches for interesting elementsto add to a "Wikipedia 3.0"
http://www.quora.com/
for more fine-grained and practical knowledge content
http://datajournalismhandbook.org
for better knowledge transfer; increasing understanding when using data visualisation
http://www.wolframalpha.com/
automatic knowledge generation
http://debatepedia.idebate.org/
mapping the whole picture of controverse topics