Online Social Learning Spaces
by
Patricia Anderson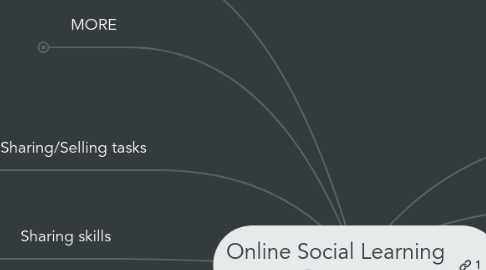 0.0
stars -
0
reviews range from
0
to
5
MORE
About
The workforce in the cloud
Q&A
Concerns
Pricing ourselves out of the market
You can't just keep making class size better
Students don't want to sit in class
Will kids know how to be independent learners?
How to scale?
Haves vs havenots
PEDAGOGY
Assessment, Students sharing "answers, Are the teachers asking the right questions?
Analytics / "impact"
Themes
Personalization
Social
FREE, Value, Certification
Localization
Asynchronous
Qualifiable
Transferrable
Open
Solutions
Community learning
Assessment / validation, badges
Service learning
Mentorship
How can we use these?, Traditional educational projects could explore these new spaces, Connect traditional ed to new social spaces, Students become teachers, Students become EXPERT teachers, National Science Museum example
Scenario
Recruiter from industry, Resumes, How do I vet skills of DIY U spaces?, Train me how to evaluate these students?, Will nontraditional student be in my keep file?
Alternative certification processes, Mozilla Open Badges, "If you don't have a blog, you don't have a resume"
Question
"Who offers a learning experience that is value added, different than the lecture hall?
Maybe the future of higher ed is to do what it does well even better"
Higher ed isn't formatted well for the "Bulge Learner"
How does this connect to Common Core in K12?
What aout fostering independent learning from an early age?
Takeaways
Administration vs Self-design
Face to face vs online community building
Less about the content, Define competencies, Assess / measure competencies, Demonstrate competencies
Digital divide
Goals
Economics
More tools & Spaces
Cramster
Einztein
Mozilla Open Badges
Open Study, About
Piazza
School of Everything
About, Taking it to the streets, Cathy Davidson
INTRO
Games/VW
Flickr
Movie
Do it Myself
About SOLE
Sugata Mitra
Open Education
iTunes
Higher Ed Responds
Coursera
MITx
EdX
MOOCs
Examples, Stanford Artificial Intelligence, Change MOOC, eduMOOC
Types, cMOOC, xMOOC, DOCC, Distributed Online Collaborative Course
Best Practices, Wiki, Collaborative book about MOOCs
Finding Tools, History of & List
Issues, NYTimes, Economics, Does learning occur?, Based on "same old"
Mod the Model
Sharing/Selling tasks
About
Sharing skills
About, 11-08: Skillshare Raises $3.1 Million to Turn Everyone Into Teachers, 11-05: Organize An Offline Class With Skillshare, 12-01: Teach What You Know: How to Make a Living on Skillshare, 12-03: Skillshare Launches 'Schools' for Brands, 12-04: How Skillshare Is Transforming Education as We Know It
Skillshare: Learn
Skillshare: Teach
Penny Conference
Other examples
Brighton Digital Festival
Skillswap goes Javascript
Skillswap goes turbocharging the web, Descriptions
Skillswap goes wayfinding
Selling learning
Health
LearnItLive
MCCSM
Sharing learning