Head First Servlets and JSP
by
Julio Gutierrez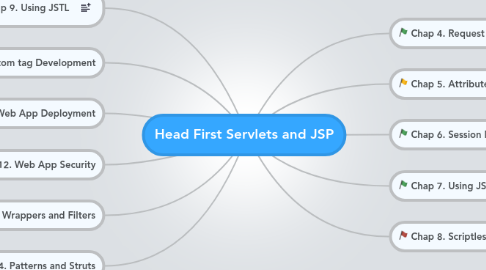 5.0
stars -
3
reviews range from
0
to
5
Head First Servlets and JSP
Container
Servlet's life
Http Methods
Idempotent (GET, HEAD, PUT, DELETE, TRACE, OPTIONS)
No side effects
Request
Response
javax.servlet.ServletRequest
javax.servlet.ServletResponse
Chap 5. Attributes and Listeners
Context init Parameters
One per web app
Servlet init Parameters
One per servlet
ServletContext
Listeners
Attributes
Attributes are not Thread safe
Parameters
RequestDispatcher
Chap 6. Session Managment
URL rewriting
javax.servlet.http.HttpSession
You get this obj using req,getSession, you not use new HttpSession().
HttpServletRequsert
Sessions
Ways a session die
javax.servlet.http.Cookie
javax.servlet.http.HttpServletRequest.getCookies(); javax.servlet.http.HttpServletResponse.addCookie(cookie); The cookie conatin the sessionID and so..
Session Listeners
Chap 7. Using JSP
Jsp
Is translated into a java, then compiled into a class and loaded as a servlet
Chap 8. Scriptless JSP
EL
Bean-Related
Include
Taglib declaration
<jsp:forward>
like RequestDispatcher forwards the request to another resouce from the same web app
Chap 9. Using JSTL
JSP Standard Tag Library
Core Tags
Errors
TLD
Tag library descriptor
Chap 10. Custom tag Development
Tag handlers
Tag
directives and actions to apply the name can be tag or tagx it MUST be inside of WEB-INF/tag lib
DynamicAttributes Interface
PageContext
Chap 11. Web App Deployment
Directory Structure
Mapping
Welcome file
initialization
JSP Document (XML-based dcument)
the <% are only for reference they are not valid into a jsp docuemnt (xml-based)
EJB
env-entry
is a way to get deploy-time constants into a j2ee app
Mime
Chap 12. Web App Security
Realm: place where authentication information is stored
Authorization
Multiples <security-constraint>
Authentication types
HttpServletRequest
Chap 13. Wrappers and Filters
javax.servlet.Filter
Declaring (DD)
Decorator/Wrapper
Order rule
Chap 14. Patterns and Struts
Business Delegate
Use the business delegate pattern to shield your web tier controllers from the fact that some of your app's model components are remote.
Service Locator
Use the service locator pattern to perform registry lookups so you can simplify all of the other components that have to do JNDI lookups
Transfer Object
minimize network traffic by providing a local representation of a fine-grained remote component
Intercepting Filter
modify the requests being sent to servlets, or to modify responses being sent to users
Model View, Controller
create a logical structre that separates the code into three basic tye fo compoennts, in you application, this increase the cohesiveness of each component and allows for greater reusability, especially with model components
Fron controller
Use the fron controller pattern to gather common, often redundant, request processing code into a single component, this allows the application controller to be more cohesive and less complex