Wind Economics, Finance & Policy David Lipschitz at Retech 2009
by
David Lipschitz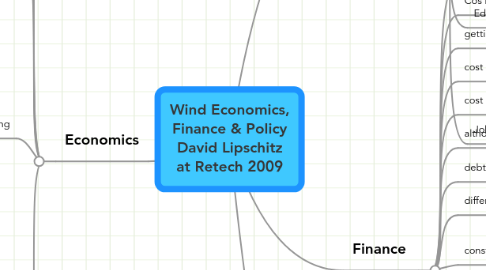 0.0
stars -
0
reviews range from
0
to
5
Wind Economics, Finance & Policy David Lipschitz at Retech 2009
Speakers
Matt Ferguson
Rich Krauze
Ed Feo
John Eberg
Finance
Fed govt pays 2/3rd of capital cost of wind projects
Cos need some capital of their own
getting expertise for capital
cost of capital is up
cost of equipment and construction is down
although cost of some turbines is up and others is down
debt?
different kinds of financing
construction financing
cost of tax equity has gone up
is there a VC market
JPM: 100MW wind farm is $200 million
risk has changed
are there loan guarantees?
is underwriting available?
[it seems like the red tape is much more and that financiers don't want to take any risk! ie the split between business risk and financial risk has changed]
Policy
effect of the stimulus bill
grants
risks
number of people who can participate should increase
PPA's, ITC's
How do munipalities get financing?
consider the legal environment
Economics
consider the fuel, ie wind, sun, water, etc, for these projects
need to have a great project
need experience, eg in project management and implemented projects
are there strategic relationships and partnerships you can take advantage off
there is a flight to quality
high scoring
consider the underlying project economics