ERP
by Baert Amélie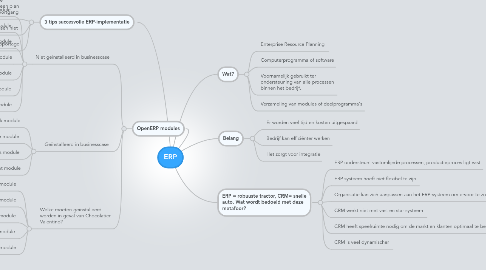 1. OpenERP modules
1.1. Niet geïnstalleerd in businesscase
1.1.1. HR module
1.1.2. Delivery module
1.1.3. Inventory module
1.1.4. Production planning module
1.1.5. Production module
1.1.6. BI module
1.1.7. Engineering module
1.2. Geïnstalleerd in businesscase
1.2.1. Stock module
1.2.2. Purchase module
1.2.3. Sales module
1.2.4. Account module
1.3. Welke moeten geïnstalleerd worden in geval van Chocolatier Valentino?
1.3.1. Inventory module
1.3.2. Production module
1.3.3. Stock module
1.3.4. Sales module
1.3.5. Account module
2. 3 tips succesvolle ERP-implementatie
2.1. Maak tijd vrij voor de implementatie, stel een plan op en bewaak de voortgang
2.2. Onderschat uw eigen processen niet
2.3. Zorg voor een goede rapportage
3. Wat?
3.1. Enterprise Resource Planning
3.2. Computerprogramma of software
3.3. Voornamelijk gebruikt ter ondersteuning van alle processen binnen het bedrijf.
3.4. Verzameling van modules of deelprogramma's
4. Belang
4.1. Er worden veel tijd en kosten uitgespaard
4.2. Bedrijf kan efficiënter werken
4.3. Het zorgt voor integratie
5. ERP = robuuste tractor, CRM= snelle auto. Wat wordt bedoeld met deze metafoor?
5.1. ERP ondersteunt vastomlijnde processen, productieproces ligt vast
5.2. ERP systeem hoeft niet flexibel te zijn
5.3. Organisatie kan zich aanpassen aan het ERP-systeem om ervoor te zorgen dat de organisatie optimaal omgaat met haar middelen
5.4. CRM werkt niet met vast en star systeem
5.5. CRM heeft speelruimte nodig om de markt en klanten optimaal te bedienen
5.6. CRM is veel dynamischer