NEW TECHNOLOGY IN HOSPITAL
by
Jani Kiviranta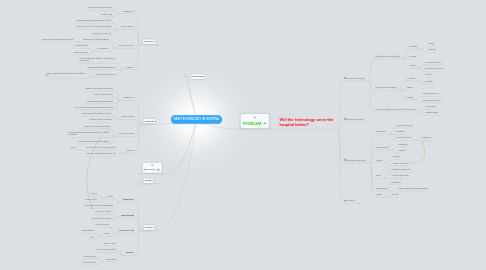 0.0
stars - reviews range from
0
to
5
NEW TECHNOLOGY IN HOSPITAL
STRENGTHS
Quality, In time, Quality of life
Faster and more exact diagnoses
WEAKNESSES
No human contact
Afraid of the machines
OPPORTUNITIES
Self medication
Faster, Appointments, Cure
THREATS
Errors in Tech
Errors in using the tech
Private data, Can be mixed, Can be robbed
STRENGHTS
More efficient way of working
Better image
WEAKNESSES
New technologically oriented work force
Work force can be hard to find and keep
Training can cost a lot
OPPORTUNITIES
Reducing the costs of experts, Sharing the costs between hospitals
Co-operation, Multinationally, Share expertise
THREATS
How to substitute "broken" technology in emergency
Losing well educated personnel
Provider goes bankrupt, where to get new tech or personnel to do the job
STRENGHTS
Latest technology
WEAKNESSES
Already tested in long run?
Can they handle and support demand
OPPORTUNITIES
New markets
New solutions, Based on demand
THREATS
Competition
Testing
Changes in the legislation
STRENGTHS
Better knowledge management
Faster communication
decreasing the possible errors
Time to be where you are needed the most
WEAKNESSES
Technological knowhow is too low
Attitude against machines
OPPORTUNITIES
More time to human contacts
Monitoring the patients and alerts when doctor is needed
Personnel can be trained to experts
THREATS
You trust too much to the machine, Errors
New technology will take your job
STRENGTHS
Educated work force, They know the tech
WEAKNESSES
Requirements of hospitals
Too keen on the sellers technology
OPPORTNITIES
Co-operation with sellers
THREATS
Over producing the experts
Will the technology serve the hospital better?
Current state analysis, Hospital without technology, Workforce, Quality, Quantity, Finance, Quality, From patients POV, From work force POV, Hospital with technology, Workforce, Quality, Quantity, Finance, Quality, From patients POV, From work force POV, How technology helps patients at the moment, Advantages, Disadvantages
Future expectations, What kind of technology could make hospital better, Patients, Able to use by themselves, Willing to use, Quality of life
Estimated Side-effects, Economical, Price/Cost/Savings, Education, Source for money, Taxpayers?, Environmental, Production, Disposal, Political, Security, Source of money, Social, Available to everyone?, Accepted by society, Adaptibilty, Technological, Creates newer and better solutions, Legals, Security
Outcome, Results of our study and research, Yes, We get strategy guidelines for implementing the new technology in hospitals, No, Weaknesses and threats can be converted to opportunities
Brainstorming
Some questions and ideas
- Are robots/new technology used in the hospital already - Can new technology serve better? - Does new technology save money, how much and in what time? - Costs and maintenance? - How to measure quality?
What do we know?
What do we have to know?
How we are going to get the data to proceed?