The Open University Mission and History
by
Sally Crompton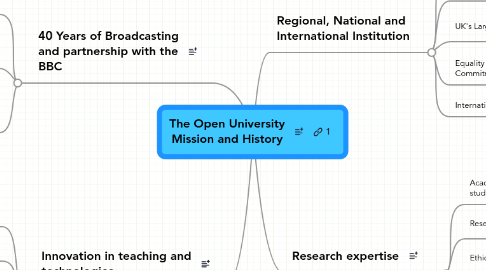 0.0
stars -
0
reviews range from
0
to
5
The Open University is open to people, places, methods and ideas. It promotes educational opportunity and social justice by providing high-quality university education to all who wish to realise their ambitions and fulfil their potential
Regional, National and International Institution
Open Access
The Open University was established to be 'open', with no entry requirements. The only exceptions are some postgraduate courses  
Local and Online support
The OU offers supported distance learning through 10 Regional Centres in England as well as National Centres in Scotland, Wales and Northern Ireland Students are supported by over 9000 tutors online and within 350 study centres. Additional help and advice by telephone or online through learner support services.   
UK's Largest University
164,487 undergraduate and 18,138 postgraduate students 25,000 outside the UK 35% of all part-time undegraduates in the UK 14,125 students in Scotland 6,000 students in Wales
International Reach
40 Years of Broadcasting and partnership with the BBC
Since the start of the partnership spproximately 7500 OU/BBC programmes have been produced
Academic Expertise in Teaching and Public Engagement
Each academic joins a course team to create learning materials designed to be studied flexibly by people who have a range of needs and experience. Distinctive staff pool oriented towards dissemination and access to higher learning They all gain experience of explaining concept in an accessible way. Content and support is designed for distance and elearning using a mix of media; this includes self-assessment tools, collaboration forums and a personalised learner experience.
Dedicated Multiplatform Broadcasting Unit
Every TV commission has always included an OU learning journey with appropriate learning content and activity either through print items, online activity and/or outreach events In a large organisation a dedicated Unit with staff experienced in broadcasting can faciliate and co-ordinate all broadcast commissions and  partnerships and enable access through to the OU's expertise and skills
The University supports a vibrant research and enterprise portfolio, focusing on issues affecting the social, political and physical well-being of individuals, communities, cultures and nations across a range of contexts.  Research Centres include... The Centre for Citizenship, Identities and Governance The International Centre for Comparative Criminological Research The Centre for Research in Computing The Centre for Research in Education and Educational Technology The Centre for Earth, Planetary, Space and Astronomical Research    
Academic staff and research students
In 2006/07 the University employed 1,218 salaried academic staff, 735 full-time research students and 758 part-time research students
Research online
The University's electronic repository of research publications - Open Research Online (ORO) - contains 8,000 items.  This Open Access resource can be browsed and searched freely by anyone with internet access around the World
Ethics
Research at the Open University research is carried out under the highest contemporary standards. All research which involves human participants or human materials is considered and approved by the OU Human Participants and Materials Ethics Committee. In addition, researchers are supported by ethics governance training and a web site containing Frequently Asked Questions and current information about developments in research ethics. Details of the Open University research ethics review process can be found on the Research Ethics website.
Knowledge Transfer
The OU engages actively in collaborative projects with UK industry, commerce and the public sector (including community enterprise) to the mutual advantage of the University and a range of regional, national and international partners. The University's commitment to this knowledge transfer (KT) mission is acknowledged as a formal and integral feature of the institutions employment, and staff development and reward landscape.
Innovation in teaching and technologies
The OU has been faithful to its mission of openness to methods. Over three decades we have adopted various new media for teaching and learning. Audiocassettes and later videocassettes gave students more autonomy. Then, in the 1980s, personal computers opened up exciting new possibilities for many courses. Many students are enthusiastic about exploring CD-ROM and web-based materials. By the mid-nineties we began the massive exploitation of the internet that has made the OU the world's leading e-university. Today more than 180,000 students are interacting with the OU online from home. Each week, 25,000 students view their academic records online. When exam results were available, 85,000 students viewed them online The student guidance website receives 70,000 page hits per week. The Open Library receives more than 2.5 million page views each year. 110,000 students use the conferencing system. There are 16,000 conferences, of which 2,000 are organised and moderated by students themselves.
Expertise in pedagogy
The Open University has been creating, developing and evaluating innovative courses for over 30 years.  This success is partly driven by the high quality research and development done by members of the Institute of Educational Technology into teaching, learning and the use of technology in education.  
Expertise in knowledge media
The Knowledge Media Institute (KMi) was set up in 1995 in recognition of the need for the Open University to be at the forefront of research and development in a convergence of areas that impacted on the OU's very nature: Cognitive and Learning Sciences, Artificial Intelligence and Semantic Technologies, and Multimedia. We chose to call this convergence Knowledge Media.
You can take away whole units from OpenLearn by using the print or download function, but you can also download Creative Commons licensed audio, video and images from our units. All of these files are available to you for free under the terms of the Creative Commons licence, so feel free to use them as part of your own teaching materials, personal study, blog or social network.  Edit the materials in the LabSpace. Collaborate with others and publish new versions of the learning materials to share with the world.  
Expertise in interdisciplinary teaching
OU is a pioneer in working across traditional discipline boundaries.  Examples include interdisciplinary environmental teaching and systems practice - where it is still a leader. Emerging new fields include heritage and creative industries.