21st Century Skills and Web Tools (click for Pechakucha-Presentation)
by
Pip Cleaves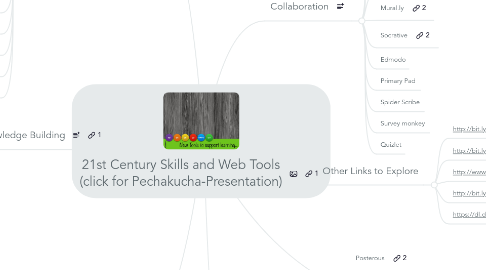 0.0
stars - reviews range from
0
to
5
In the Collaboration dimension students work together in pairs or small groups. They share responsibility and make substantive decisions together about content, outcomes or product
Students generate ideas and understandings that are new to them. Build knowledge through analysis, synthesis, evaluation. The main requirement of the learning is activity is knowledge buildings, and the activity has learning goals from 2 or more different academic subjects.
Student's work demonstrates extended communication through writing or another medium.the students work has a central focus. The student's work is well developed, coherent, well organized supports central focus with relevant evidence.
Activities last for a substantial period of time, over one week. Assessment criteria are given to students in advance, or students have input into criteria. Students plan, act and reflect on their own work.
Students (not just teachers) have the opportunity to use ICT. Students use ICT in ways that support knowledge building. ICT is required for building this knowledge.
Real world problem solving student complete a task with a defined challenge. They could not solve this problem with information they already know. Problem solving is the main requirement of the learning activity. Tis sits a real world and authentic problem that already exists outside an academic context. Students are required to implement their deals in the real world.
http://bit.ly/webtoolsbdt
http://bit.ly/webtoolmashup
http://www.scoop.it/t/swap
http://bit.ly/gridlinked
https://dl.dropbox.com/u/12784871/Bloom%27s%20Digital%20Taxonomy%20and%20Web%202%20Tools%20Poster.pdf