THE FUN THEY HAD (ISAAC ASIMOV)
by Technical gaming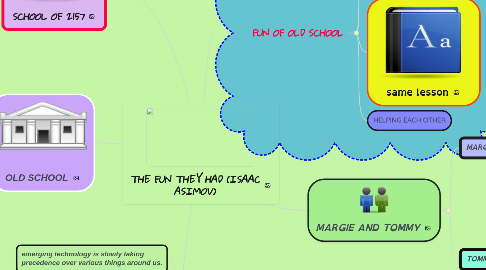 1. FUN OF OLD SCHOOL
1.1. together laughing
1.2. together shouting
1.3. same lesson
1.4. HELPING EACH OTHER
2. SCHOOL OF 2157
2.1. LEARNING THROUGH COMPUTER
2.2. VIRTUAL CLASSES
2.2.1. THROUGH ROBOTS AND GADGETS
2.3. ROBOTIC TEACHER
2.3.1. gives her loads of homework to do
2.4. MOVING E-TEXT
2.5. CLASS TAKEN AT HOME
3. MARGIE AND TOMMY
3.1. MARGIE(10 YEAR OLD)
3.1.1. WROTE A DIARY ON 17 MAY 2157
3.1.2. she disliked the mechanical teaching and learning.
3.2. TOMMY(13 YEAR OLD)
3.2.1. TOMMY FOUNDED A REAL BOOK
3.2.1.1. YELLOW AND CRAMBELD PAGES
3.2.1.2. found it hilarious to read
3.2.1.3. LATELY , gets fascinated about the fun the children had
3.2.1.4. old book that consisted of stories
4. OLD SCHOOL
4.1. HELD IN SCHOOL
4.2. TEACHED BY HUMANS
4.3. CENTURIES AGO
4.4. special building and all the kids of the same age studied together.
5. CONCLUSION
5.1. emerging technology is slowly taking precedence over various things around us.
5.2. it wouldn't be surprising to see if human teachers are replaced by mechanical devices or robots