MINING ACTIVITY
by Renzo Jamir NQ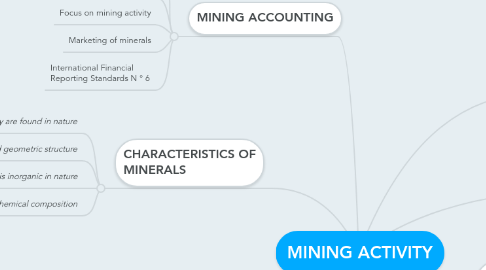 1. DEFINITION
1.1. It consists of obtaining minerals and other materials from the earth's crust.
2. CANON AND MINING ROYALTIES
2.1. The mining canon is constituted by 50% of the total income and rents obtained by the state in the mining activity.
2.2. Mining royalties are the amount paid on the value of the concessionaire or its equivalent, or mining component.
3. BY ITS TYPE OF ACTIVITY
3.1. Exploration and exploitation
3.2. Benefit
3.3. General work
3.4. Mining transport
4. LESSONS
4.1. Small miner
4.2. Mining medium
4.3. Big miner
5. ENTITIES RELATED TO THE MINING SECTOR
5.1. Ministry of Energy and Mines - MINEN
5.2. Mining Council - CM
5.3. General Directorate of Mining - DGM
5.4. General Directorate of Mining Environmental Affairs - DGAAM
6. BENEFITS OF MINING WORKERS
6.1. Forms of employment hiring
6.2. Labor rights and obligations
6.2.1. Working conditions
6.2.2. Remuneration
6.2.3. Working day
6.2.4. Mining Worker Day (December 5)
7. HOW MINERALS ARE PRODUCED
7.1. Mining exploration
7.2. Operations at the mine
7.3. Metallurgy
8. CHARACTERISTICS OF MINERALS
8.1. They are found in nature
8.2. Has a fixed geometric structure
8.3. It is inorganic in nature
8.4. Has a fixed chemical composition
9. MAIN MINERALS IN PERU
9.1. Gold
9.2. Silver
9.3. Copper
9.4. Zinc
9.5. Tin
9.6. Molybdenum
9.7. Iron
9.8. PlomoPlomo
10. MINING ACCOUNTING
10.1. Concept
10.2. Legal regime
10.3. Focus on mining activity
10.4. Marketing of minerals
10.5. International Financial Reporting Standards N ° 6