CONSTRUCTION SITE MOBILISATION
by NUR SHAFIQAH MUDA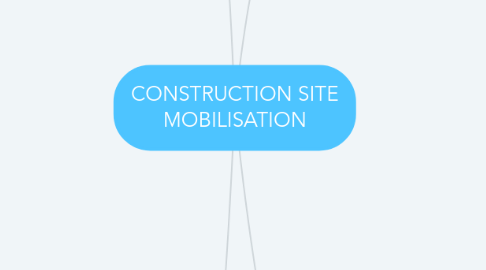 1. ADMINISTER PROJECT AWARD PROCESS
1.1. 1.1 Organise acceptance of Tender Award
1.1.1. Submission preceding tender award
1.1.1.1. Letter of acceptance
1.1.1.2. Regret letter
1.1.2. Tender negotiation strategy
1.1.2.1. To make sure the bids are competitive
1.1.2.2. Between client and contractor
1.2. 1.2 Administer Tender Award Condition
1.2.1. Insurances
1.2.2. Advance payment
1.2.3. Bonds
1.2.4. Permits
1.2.5. Local authority requirements and contributions
1.2.6. SOCSO requrements
1.2.7. Licences
1.2.8. CIDB Levy
1.2.9. Foreign workers levy & requirements
1.2.10. Site organisational chart
1.2.11. Construction work program
1.2.12. Sub-Contractor company registration
1.2.13. Site registration permit
2. ADMINISTER SITE POSSESSION
2.1. 2.1 Administer Permits, Fees & Contributions
2.1.1. Workers permits, levy & living quartes
2.1.2. Authorities contributions & charges
2.2. 2.2 Organise Site Possession Process
2.2.1. Survey existing site
2.2.1.1. Topography
2.2.1.2. Restrictions
2.2.1.3. Existing structures & services
2.2.1.4. Obstructions
2.2.1.5. Vegetation & soil
2.2.1.6. Access & egress
2.2.1.7. Utility piloting & mapping
2.2.2. Site possession procedure
2.2.2.1. Site handover
2.2.2.2. Kick off meeting
2.2.2.3. Site possession documentation
2.2.2.4. Project signboard
2.3. 2.3 Communicate Site Possession Process to Project Implementation Team
2.3.1. To implement the organised site possession on the site
2.4. 2.4 Monitor and Control Site Possession Process
2.4.1. To measure the performance
2.4.2. Identify potential risk
3. ESTABLISH SITE LAYOUT PLAN
3.1. 3.1 Plan Site Layout
3.1.1. Access, egress & traffic control
3.1.1.1. To ensure that only the authorized personnel, vehicles and materials are allowed to enter, move and leave the fascility
3.1.1.2. Provides protection of the site materials, plants and etc.
3.1.2. Temporary buildings
3.1.2.1. For workspace, for workers and authoritres, plants and machineries
3.1.3. Signage, temporary services & security
3.1.4. Safety and health, environmental control provisions
3.1.4.1. Workers welfare
3.1.5. Dump site
3.1.5.1. For clean workspace/site
3.2. 3.2 Setting Out Project Site
3.2.1. TBM, baselines, working spaces
3.2.1.1. For inspection, maintenance & repair
3.2.2. Horizontal & Vertical control
3.2.2.1. To create a framework around which other surveys can be adjusted
3.3. 3.3 Communicate Site layout Plan to Project Implementation Team & Community Engagement Plan
3.3.1. To implement the planned site layout on the project
3.4. Monitor and Control Site Layout Establishment
3.4.1. Careful sizing and positioning of temporary facilities help to reduces travel time, congestions, etc...
3.4.2. Ensure the site more effective workplace with better work morale
4. ESTABLISH PROJECT PRELIMINARIES
4.1. 4.1 Plan the Establishment of Project Preliminaries
4.1.1. The temporary fascilities
4.1.2. The temporary services
4.1.3. Permits, license, insurances
4.1.4. Authorities levies contribution, charges
4.1.5. Quality inspection and test
4.1.6. Workers welfare provisions
4.1.6.1. CLQ
4.1.6.2. For better work progress/onterme
4.1.7. Safety and health provisions
4.1.7.1. ERT
4.1.8. Environmental
4.1.9. Site hoarding
4.1.10. Project signboard
4.1.11. Workers logistic
4.2. 4.2 Organise Project Preliminaries
4.2.1. Temporary facilities, services
4.2.2. Permits licences, insurances
4.2.3. Workers quarters & welfare amenities, site safety, & environmental compliance requrements
4.2.4. Site offiice
4.2.4.1. Establish
4.2.4.2. Operating
4.2.5. Quality inspection & tests
4.2.5.1. For better work progress
4.2.6. Site meetings & project monitoring
4.3. 4.3 Communicate Project Preliminaries
4.3.1. Assign resposibilities
4.4. 4.4 Monitor and Control Establishment of Project Preliminaries
4.4.1. For smooth execution of the project