METHODS OF ESTIMATING RELIABILITY
by Lori Ayo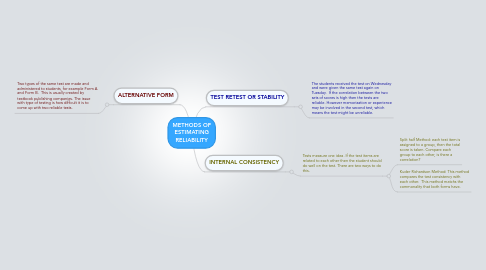 1. TEST RETEST OR STABILITY
1.1. The students received the test on Wednesday and were given the same test again on Tuesday. If the correlation between the two sets of scores is high then the tests are reliable. However memorization or experience may be involved in the second test, which means the test might be unreliable.
2. ALTERNATIVE FORM
2.1. Two types of the same test are made and administered to students, for example Form A and Form B. This is usually created by textbook publishing companies. The issue with type of testing is how difficult it is to come up with two reliable tests.
3. INTERNAL CONSISTENCY
3.1. Tests measure one idea. If the test items are related to each other then the student should do well on the test. There are two ways to do this.
3.1.1. Split half Method: each test item is assigned to a group, then the total score is taken. Compare each group to each other, is there a correlation?
3.1.2. Kuder Richardson Method: This method compares the test consistency with each other. This method matchs the commonality that both forms have.