Mind Mapping Uses & Applications
by
Silviu M.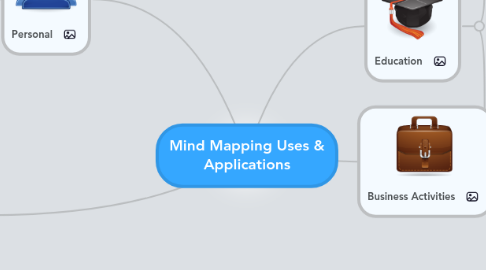 4.9
stars -
8
reviews range from
0
to
5
Mind Mapping Uses & Applications
Education
Teachers
Students
Business Activities
Planning & strategy
Administration
Structuring & Organizing data
Website & Content Management
Mind maps are a great way to collect and structure information for writing articles, blog posts, ideas for Facebook, Twitter etc.
Personal
Retain Information
If you want to make sure you don't forget or loose important information, just write it down in a map.
Content Creation
Mind Mapping can help you when creating content. Using mind maps you will be able to organize you thoughts and prioritize the ideas much easier.
Planning
Mind Mapping can be a great time-saver when you want to plan something.
Problem Solving
Solving problems is not always an easy process, so
Structuring & Organizing
Mind Maps allows you to Structure and Organize information more efficient. It allows you to create complex structures that are much similar to our thinking process than any linear note taking method.
Life management
Did you ever forgot goals, or lost a to-do list? This doesn't need to happen again. Your maps are stored save on our secure server and you can access them from everywhere.
Collaboration & Sharing
Personal
Business
Education