Mind Mapping Uses & Applications
by
Silviu M.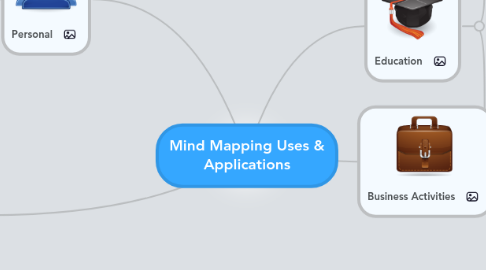 4.9
stars -
8
reviews range from
0
to
5
Mind Mapping Uses & Applications
Education
Teachers
Teaching, Lecture notes, Prepare lectures, Share lecture notes, In class, Collaboration with students, Class timetable, Assign projects or papers, Extend learning time, Link home and school activities
Organization, Plan the course structure, Create the structure of an exam, Continuous assessment, Manage students
Students
Assignments, Writing essays, Writing a thesis, Individual projects, Group projects
Studying, Taking notes, Complex topics, Exam preparation
Business Activities
Planning & strategy
Business Plan, Vision, Strategies, Market analyses, SWOT analyses, Roles and responsibilities, Milestones, Financial
Project Management, Task Management, Online Collaboration, Manage supply chain
Budget planning, Cash flow, Income, Expenses
Product launch, Location, Timing, Media
Administration
Meeting management, Group brainstorming, Map entire meeting, Online collaboration
Employee management, Contact details, Duties and responsibilities, Holiday scheduling
Department management, Manage teams
Structuring & Organizing data
Comparing and analyzing, Decision Making, Problem solving, Presentation
Managing lists, Employees, Customers, Compeititors, Industry technology
Organizing complex information, More manageable sections, Present in easier terms
Website & Content Management
Mind maps are a great way to collect and structure information for writing articles, blog posts, ideas for Facebook, Twitter etc.
Brainstorm ideas for creating content
Schedule content
Blog management
Social media
Track SEO activities
Personal
Retain Information
If you want to make sure you don't forget or loose important information, just write it down in a map.
Book and Media Summaries
Keep track of your plans
Taking Notes
Keep track of things you like, List of places around the world that you would like to visit, List of favourite books
Keep track of your Ideas
Managind to-do lists
Content Creation
Mind Mapping can help you when creating content. Using mind maps you will be able to organize you thoughts and prioritize the ideas much easier.
Wiring an article
A new post for your blog
Writing a CV
Important Letters, Letter of application, Letter to a public institution, Any other complex letter
Planning
Mind Mapping can be a great time-saver when you want to plan something.
Personal Projects
Personal Study
Holidays
Planning your budget & spendings
Important Events
Weddings
Problem Solving
Solving problems is not always an easy process, so
Problem solving using George Polya's strategy, Understand the problem, Devise a plan, Carry out the plan, Review/extend
Problem solving using the IDEAL strategy, identify problems & opportunities, define alternative goals, explore possible strategies, anticipate and act, look and learn
Structuring & Organizing
Mind Maps allows you to Structure and Organize information more efficient. It allows you to create complex structures that are much similar to our thinking process than any linear note taking method.
Personal Brainstorming, New idea for my job, Brainstorming with friends on,.....?
Organizing complex information
Managing Lists, Favourite Movie Lists, Lists of books, books I've read, books I want to read, books I enjoyed, Favourite Quote Lists, Creating favourite lists, Specific Contact Lists, Lists of favourite food Recipes, A list of your Favourite Places
Training and Education, keep track of the things you want to learn, make sure to not forget about the trainings you want to follow
Life management
Did you ever forgot goals, or lost a to-do list? This doesn't need to happen again. Your maps are stored save on our secure server and you can access them from everywhere.
Keep track of your goals
Record important data
Keep track of the things you like to do
Collaboration & Sharing
Personal
Collaborate with family to manage big shopping lists
Collaborate with friends to plan a holiday
Collaborate with the whole world to create wiki maps
Collaborate with the public summaries of your writings
Use it to plan family budget
Business
Collaborate with colleagues to support your the planning & strategy of a project
Share mind maps with employee contact details
Collaborate on analysing and find solutions together
Offer structured information about your company to the public
Education
Collaborate with students to keep them informed about a Lecture
Collaborate with the class to brainsorm on different topics
Collaborate with colleagues on different projects
Share the structure of a course or program
Share summaries of your papers or publications