Copy of Unit 7: Professional Development and Researching Practice
by
John Cuthell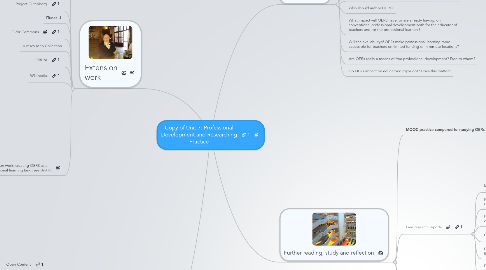 5.0
stars -
1
reviews range from
0
to
5
Using e-tools for researching practice, collaboration and management (module review, reflecting and transforming practice) This resources provide opportunities to study e-tools, especially OERs, for researching professional development and researching practice in the context of creativity and digital literacy. In summary, knowing about OERs would seem to be a new area of digital literacy. However, accreditation, quality assurance and financial issues may militate against creativity in this field. The resources have been curated on a MindMap that covers professional development opportunities for learning about Open Educational Resources (OERs) as well as some specific information about researching practice. A key issue that emerges is the tension between traditional and informal forms of professional development.There are three perspectives on this issue. Firstly, in traditional accredited programmes of professional development the content is planned long before and may already be out of date in this fast moving area because of the time lag whilst accreditation is agreed by an awarding body. These courses will have a cost. The second perspective is emerging informal professional development facilitated by the increasing availability of 'free' OERs. These can underpin private study or can be the content of community learning in groups that is often online. These different communities, often with free membership, present their collective learning online in different forms of OER. Often the author has been paid to produce these OERs however. If they are published they can then be used by other bodies which may endanger the jobs of existing tutors. There is also no obvious route for quality assurance. The third perspective bridges the gap between these two: traditional and informal. This can be seen when educators oversee the development of action research studies that can be published singly or collected together to provide a management of change message. This method offers the most obvious way of researching practice with a view to reflection and change. This method also facilitates group reflection. Where tutors are involved there is a cost, however. In detail the user can investigate these resources to see how the new availability of OERs affects the role of the educator as a teacher and a learner in a formal accredited course. Secondly the study can lead to a reflection on whether the availability of OERs makes the development of remote informal learning alone or in a community more likely as a professional practice. Thirdly the user may wish to use the experience of investigating this resource to reflect on whether the availability of OERs impacts on research into professional practice. Overall the user will want to reflect on how all these issues impact on digital literacy and creativity for profession educators.
Informal activities that result in OERs for others to explore as well as some examples of existing free units ( Look in unit 4 for more)
xMOOCs
CMOOC
What is a MOOC?
Stimulus questions
What is the value in terms of professional learning of OERS compared with MOOCs
Might OERs bring about the death of the university accredited educator and the demise of educational publishers?
Are OERs a panacea for professionallearning at no cost?
Are all recommendations to educators use particular OERs for professional development equally trust worthy? When might the recommendations be questionable?
Who should author OERs?
What impact will OERS have, or are already having, on conventional professional development both for the educator of teachers and for the professional learners?
Will the availabilityof OERs make professional learning more accessible for teachers on limited funding or in remote locations?
Are OERs really a means of free professional development? Free to whom?
Do OERs impact on educators' copyright? Does this matter?
Researching and reviewing OER practice as a professional development exercise (linked with unit 4)
Academic Institutions
Open Learn
University of Oxford
Wiki Foundation
Wikipedia
WikiMedia Commons
Internet Archive
Prelinger
Wellcome Foundation
National Archives
Smart History
Khan Academy
Computer Science
iTunes U
The key goals of The Commons on Flickr are to firstly show you hidden treasures in the world's public photography archives, and secondly to show how your input and knowledge can help make these collections even richer. You're invited to help describe the photographs you discover in The Commons on Flickr, either by adding tags or leaving comments.*
rumsey Map Collection
Extension work: creating OERS as a professional learning task ( see Unit 4)
  - Using e-tools for researching practice, collaboration and management (module review, reflecting and transforming practice)
Licences, Creative Commons, Licences, BY, BY SA, BY ND, Categories, BY, SA, NC, ND, Jurisdiction, CC Reosurces, CC Tools, Public Domain, © Copyright
Media, Text, eBooks, images, Video, Web Based, Blogs, Platfroms
Application, MOOCs: Two pedagogical styles:creation, creativity, autonomy, and social networked learning or traditional transmission approach through video presentations and short quizzes and testing., Examples:a reading MOOC, The new VLE?, Online Course, Local Courses, MOOCs, Open Education, DS106, Edx, Non Profit, Coursera, University of Edinburgh, For Profit, VLEs, use of OERs in VLES, Crowd sourcing, microblogging e.g. Twitter, informal information e.g. Linkedin, MirandaMods, TeachMeets, OER development comunity, OER Use - Practical Examples, Redwood College
Properties, Sustainability, Open Learning, Knowledge Building, Transferability, Open Content, Shareable, Open Acess, Standards
E-tools for researching OERs, Researching Practice, Apples, screwdrivers and desks: a comparative review of three Stanford free courses", Sitting in a bar with a really smart friend, Collaboration, e-tools for working online collaboratively, remotely authored concept maps, Word Walls, Management, Module review, New node, Reflecting, Transforming practice, Action research definition, Community practice
Further reading, study and reflection
MOOC practice compared to studying OERs
Four Barriers to MOOCs
MOOCs: Advantages and disadvantages
MOOC participant views
MOOC Backlash
MOOC: Poor learning design
Learning for Free? MOOCs
This selection of research reports about professional development for educators in digital technologies in education also provides lists of references for investigation. However, OERs are very new so they are not referred to in this terminology: 'case studies' 'resources' and 'action research' are terms that might provide useful material.
Leask, M. and C. Preston (2011) ICT Tools for Future Teachers: Becta, Coventry.
Pachler, N, C. Preston, J. Cuthell, A. Allen and Pinheiro Torres (2011) The ICT CPD Landscape in England, Becta
Preston, C. (2004). Learning to use ICT in Classrooms: teachers' and trainers' perspectives: an evaluation of the English NOF ICT teacher training programme (1999-2003)
Cuthell J.P. (2012) Learning in Liminality (2012)
Daly, C., Pachler, N. and Pelletier, C. (2009) ICT CPD for school teachers: a literature review for Becta. London: WLE Centre., New node
Daly, C., Pachler, N. and Pelletier, C. (2009b) ICT CPD for school teachers: a research report. Becta. London: WLE Centre.
Links to other relevant units
Unit 4: Curriculum Specific Resources
Unit 6: e-Tools for Teaching and Learning
Unit 9: Online Community Working