The Third Drucker: what Peter Drucker wanted for his life
by
Benny Chin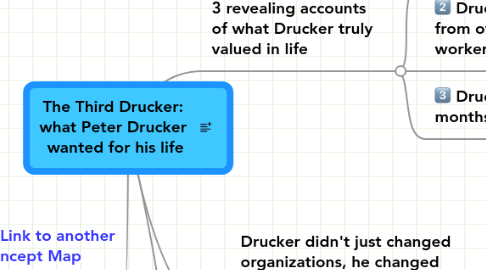 0.0
stars -
0
reviews range from
0
to
5
The Drucker that Peter Drucker wanted to be Peter Drucker is acclaimed the Father of Modern Management. It is also known that he didn't like to be called a consultant, although much of his career was consist of giving advice to corporations. Instead, he saw himself as a social ecologist. Yet, as this Concept Map seeks to demonstrated, deep in Drucker's heart, the results that he truly valued for his life were those of a mentor, that is, how he made an impact on the life of others....
Drucker didn't just changed organizations, he changed lives. Among those who openly recognize this are:
In the linked Concept Map, Drucker's impact on Collin's career and life will be further studied.
3 revealing accounts of what Drucker truly valued in life
Drucker's own self-awareness of his interest in people
Drucker came to this realization early in his life, when in 1934 he heard the renowned economist John Maynard Keynes lecture in Cambridge. This was how he recalled that experience: "I suddenly realized that Keynes and all the brilliant economic students in the room were interested in the behavior of commodities, while I was interested in the behavior of people."   --Drucker, Peter F., The Ecological Vision, p. 75-76, (1993)
Of particular significance in revealing Drucker's core beliefs for his life is the Seventh Experience described in this essay (reproduced in full below,) in which he talked about the insights he gained from an much older family friend, the fellow-Austrian economist Joseph Schumpeter:   One more experience, and then I am through with the story of my personal development. At Christmas 1949, when I had just begun to teach management at New York University, my father, then 73 years old, came to visit us from California. Right after New Year's, on January 3, 1950, he and I went to visit an old friend of his, the famous economist Joseph Schumpeter. My father had already retired, but Schumpeter, then 66 and world famous, was still teaching at Harvard and was very active as the president of the American Economic Association.   In 1902 my father was a very young civil servant in the Austrian Ministry of Finance, but he also did some teaching in economics at the university. Thus he had come to know Schumpeter, who was then, at age 19, the most brilliant of the young students. Two more-different people are hard to imagine: Schumpeter was flamboyant, arrogant, abrasive, and vain; my father was quiet, the soul of courtesy, and modest to the point of being self-effacing. Still, the two became fast friends and remained fast friends.   By 1949 Schumpeter had become a very different person. In his last year of teaching at Harvard, he was at the peak of his fame. The two old men had a wonderful time together, reminiscing about the old days. Suddenly, my father asked with a chuckle, "Joseph, do you still talk about what you want to be remembered for?" Schumpeter broke out in loud laughter. For Schumpeter was notorious for having said, when he was 30 or so and had published the first two of his great economics books, that what he really wanted to be remembered for was having been "Europe's greatest lover of beautiful women and Europe's greatest horseman--and perhaps also the world's greatest economist." Schumpeter said, "Yes, this question is still important to me, but I now answer it differently. I want to be remembered as having been the teacher who converted half a dozen brilliant students into first-rate economists."   He must have seen an amazed look on my father's face, because he continued, "You know, Adolph, I have now reached the age where I know that being remembered for books and theories is not enough. One does not make a difference unless it is a difference in the lives of people." One reason my father had gone to see Schumpeter was that it was known that the economist was very sick and would not live long. Schumpeter died five days after we visited him.   I have never forgotten that conversation. I learned from it three things: First, one has to ask oneself what one wants to be remembered for. Second, that should change. It should change both with one's own maturity and with changes in the world. Finally, one thing worth being remembered for is the difference one makes in the lives of people.
Towards the end of this interview (listen to linked mp3 podcast,) Peter Drucker was asked what he thought his legacy would be.  In response, according to the interviewer John Byrne, Drucker was actually diminishing his accomplishment, pointing out that half of his books were merely collections, best of his works occured earlier on and everything he's produced since then were marginal...., then he went on, "but what I would say is I've helped a few people to be effective and do the right thing." It looks like that his interest in people which he discovered early in life as well as the marks of other people's life on him had remained with him to the very end.  
Link to another Concept Map