The Third Drucker: what Peter Drucker wanted for his life
by Benny Chin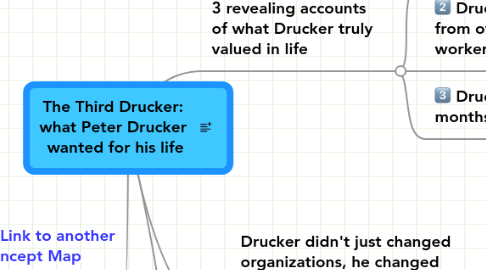 1. Drucker didn't just changed organizations, he changed lives. Among those who openly recognize this are:
1.1. Jim Collins
1.2. Bob Buford
1.3. Rick Warren
2. 3 revealing accounts of what Drucker truly valued in life
2.1. Drucker's own self-awareness of his interest in people
2.2. Drucker's 7 experiences of learning from others ["Life as a Knowledge worker" by Peter Drucker 970201
2.3. Drucker's interview with BW's John Byrne months before his death [BW 051128
3. Link to another Concept Map
4. visit My Blog(智在埋堆): about me, comments....