PSYCHOANALYSIS
by Dan DeAlmeida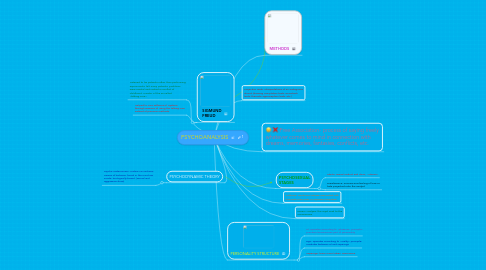 1. Free Association- process of saying freely whatever comes to mind in connection with dreams, memories, fantasies, conflicts, etc.
2. Projective Tests- interpretations of an ambiguous stimuli (drawing completion tests, Rorschach tests, thematic apperception tests, etc.)
3. Catharsis- emotional release associated with traumatic memories or repressed impulses.
4. Dream Analysis- the royal road to the unconscious
5. METHODS
6. PERSONALITY STRUCTURE
6.1. Id- operates according to "pleasure" principle, primitive/unconscious part of personality
6.2. Ego- operates according to "reality" principle, mediates between id and superego
6.3. Superego- basic moral ideas, conscience
7. PSYCHOSEXUAL STAGES
7.1. Libido- sexual instinct and drive; "I desire".
7.2. Transference- unconscious feeling of love or hate projected onto the analyst
8. SIGMUND FREUD
8.1. Listened to his patients rather than performing experiments, felt many patients' problems were mental and rooted in conflict of childhood. Creator of the so-called "talking-cure".
8.2. Helped to cure sufferers of Hysteria through sessions of using the talking-cure instead of previous methods.
9. PSYCHODYNAMIC THEORY
9.1. Psychic Determinism: Nature vs Nurture?- causes of behavior found in the mind are innate, biologically based. (sexual and aggressive drive)