Web 2.0 at UC
by
ken beatson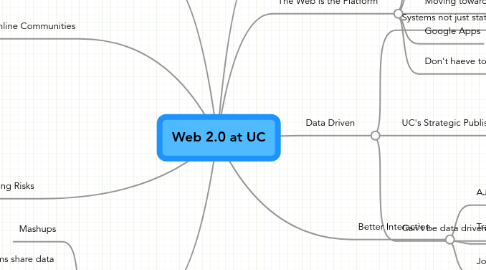 0.0
stars -
0
reviews range from
0
to
5
Web 2.0 at UC
Data Driven
Systems not just static files on a server
UC's Strategic Publishing Systems
Can't be data driven if you ain't got the data
Managing Risks
Evolution not revolution
Do things in stages but with an overall plan. Use properly managed trials to evolve policy and practice.
The right participation model
Governance and Process
Put in place some policies and governance mechanisms first. Be able to respond to likely problems effectively.
Education
Educate those involved about the pifalls - don't just let them stumble into them. Its new territory. Give lots of examples of good practice.
We're not the experts here! Involve good internal and external expertise to get the right advice. Don't just go it alone. Partner up with the right people.
Policy
Online Communities Strategy, Web, T&L, Infrastructure ...
UC Online Communities
They exist!
Illuminate group example - we're connected to many online communities
Power of the crowd
leveraging of the efforts of many.
Participation not control
UC does not control its wikipedia entry
UC Online Communities Concept
Intranet to UC Staff Community
Clear direction for our intranet - full participation model. Distinct in focus from our internet.
myUC
Federated
Mashups
Systems share data
Don't have to install everything locally!
Leverage off the work of others
Google Maps
The Web is the Platform
Doing things .. not just reading about it
Email now Webmail
Moving towards Software over the web
Google Apps
Don't haeve to install locally
Better Interaction
AJAX
Trademe
The save to watchlist button used to refresh the whole page - now the button itself just changes in a fraction of the time. This is revolutionary!
Joy of use - not just usability
T&L Applications - covered by Derek